In this world, there are people that we click with and those that we don't. There are even those that we might never see eye to eye with. You should pick your therapist the same way you choose people you want to align yourself with; through character, likability, and compatibility. Therapists come in many different styles and forms.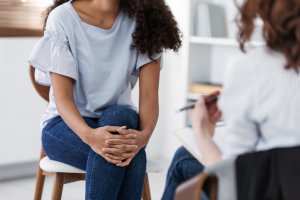 In your search for a therapist, there are many key things you might be looking for and over time this search can get tiring. However, I want to encourage you to take your time and lean into the process.
What is a culturally sensitive and affirming therapist?
There is a term that is greatly important to understanding who we all are as individuals and that is intersectionality. Intersectionality was coined by Kimberely Crenshaw in 1989 and it takes into consideration each part of who we are, all of our identities at once. With intersectionality in mind, an individual may not be looked at as just a member of their race, gender, or sexual orientation. Rather, they are viewed in their entirety with their multiple identities overlapping. Of the identities you may hold, each comes with a unique level of power or oppression that impacts you daily. These aren't things that should be held lightly, in fact, they can be heavy to hold alone. 
Your Identity
So what about you? What are your identities? How would you like them to be acknowledged? These questions are so important and shape the need for culturally sensitive and affirmative therapy. Therapists who are culturally sensitive and affirming will honor the different identities you have and can acknowledge the realities of how they impact you.
Culturally sensitive and affirming therapists move at your pace with the knowledge that trust and rapport are necessary to create a space where the impact of your identities can be shared. They are active in expanding their self-awareness and challenging their own assumptions and biases. These therapists are diligent in learning more about becoming an ally/accomplices. Regardless of who their clients are, they are dedicated to the process of being antiracists and affirming in and out of their therapy room.
Why is it important to have a culturally sensitive and affirming therapist?
The United States is constantly changing and growing, big things are happening in this country daily. These changes can impact our feelings of safety. In the moments where we feel unsafe, unseen, or even uncomfortable it's important that you have a space you can trust to acknowledge the impact of these things. The counseling room should be one of those sacred spaces for you. A space where you can feel safe, supported, and seen. Seen as you are, with no pressure to be anything more, or anything less, just yourself. Where your thoughts and feelings are recognized and validated.
When we feel seen, it can be an empowering and healing experience. Your counseling room can feel that way if your therapist is doing their own self-work. A therapist that chooses to work against racism, genderism, and injustice is one that acknowledges that differences exist and sees the beauty in them.
How to choose an affirming and culturally sensitive therapist: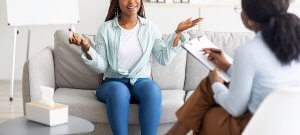 Now, how do you find an affirming and sensitive therapist? First, this may take time. Personally, I've gone through a couple of counselors of my own to find the right match. It's a painstaking journey that can be rewarding once you have a great connection.
Reflect for a second and ask yourself some of these questions:
Think about what is important to you, and the salient parts of your identity.

What is currently on your mind to process? What are your goals?
Asking ourselves these questions can help us to identify what we are looking for in a therapist and what expertise the therapist would need. For instance, you may want a male therapist. A therapist who is a member of the LGBTQIA+ community? Maybe a therapist who addresses religious challenges? Perhaps you have been struggling with work challenges while also navigating ongoing racial trauma. Or seeking a family therapist who can support a non-binary child or parent. Think about what might be a fit for you. 
Searching for a therapist who is culturally sensitive and affirming
As you start your search, be mindful of the way therapists advertise themselves. Feel free to google exactly what you may need in a counselor and see what pops up! As you're doing this, keep in mind that on many sites therapists can just check off a box or add a sentence that says they would work with minority communities. Take it a step further and look at the therapist's bio on their website, and observe:
Do they mention affirmative therapy? 

Do they acknowledge the importance of current events on our mental health, especially in diverse communities? 

How do you feel while learning about them?

What do they mention that resonates with you?
Also, if you feel comfortable, ask your trusted friends and family members if they have heard of anyone they would recommend. Counseling is a vulnerable process, maybe there is someone in your life that has had a positive experience and wouldn't mind sharing how they found their therapist.
At the Consultation or First Appointment:
In your consultation and /or initial appointment, don't be afraid to ask big questions. Feel free to be direct and to the point to gain an understanding of where they stand as a culturally sensitive and affirming therapist. Here are some questions you should consider asking your therapist:
How do you stay up to date on culturally humble, sensitive, and affirming mental health care?

Are you bi-affirming?

Are you trans-affirming?

What trainings do you have/have you completed surrounding racism and diversity?

What is your opinion on ________? Gender-affirming surgeries and the process, critical race theory, generational trauma, immigration?

How do you get news regarding race, ethnicity, minority religious communities, and the LGBTQI+ community?

Do you have many clients of color? Or from the LGBTQI+ community?

What type of resources do you share with your client and how do you tailor these to their identities and needs?

Will you share with me if you feel like there is a different therapist who can better support my needs?
After the first meeting
After your first appointment, it is okay to feel unsure. Take some time to reflect on how you felt throughout the initial session as well as future sessions:
What was my first impression upon entering the room or on the initial phone call?

How did the therapist navigate my questions?

What was my body telling me about my experience with the therapist?

How did the therapist hold themselves when I discussed my identities?

Is this someone I could see myself sharing more with?

How much training do they have, and is that level something I'm comfortable with?

When they were not knowledgeable, did they or do they attempt to learn more on their own?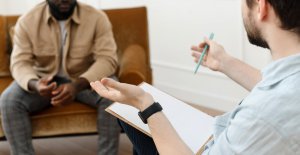 Finding the right therapist for you is a process that requires you to lean into yourself and assess if that therapist is right for you. Allow it the time that it deserves. The outcome of having a counseling space where you feel empowered can far outweigh the time it took to get there.
Additional Helpful Databases:
Being Counseling with an Affirming and Culturally Sensitive Therapist in Scotch Plains or Branchburg, NJ
Our caring therapists would love to assist you on your mental wellness journey. We offer support from our Scotch Plains and Branchburg, NJ-based therapy practices. In addition, we also provide online therapy to the residents of New Jersey. To start your counseling journey, please follow these steps: