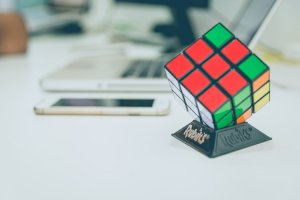 Children thrive on predictability and consistency. 
Your child may be cranky, anxious, or sad about all the changes that have happened.  Like the adults in their life, they may feel like they have lost a sense of control.  They can't do the things that they are used to doing every day. The attention your child was previously getting from their friends, they may now want from you.  Furthermore, you're suddenly a work at home/stay at home/homeschooling parent overnight! And you are trying to adjust, too.  
Perhaps your child is feeling overwhelmed by the transition to online schooling.  It feels like too much. Their worry about getting it all done is actually getting in the way doing their schoolwork.  They are stressed and frustrated and you are seeing the fallout.
Existing Stress and Anxiety Can Be Getting Worse Now
If your child had already been struggling with change or anxiety, the Coronavirus outbreak may be particularly overwhelming for them.  You may find them worried about the family's health, what will happen if someone gets sick, or if things will ever get back to normal. Maybe, they don't want you to leave the house.  If your child previously worried about "something bad happening" this may be particularly hard for them to manage.
They might complain of stomach aches, headaches, and have trouble sleeping.  Perhaps they are coming to your bed at night now. Or you might see angry outbursts, resistant behavior, and tears.  They are struggling with the changes. Managing your own anxiety may be a feat in and of itself.
You might have been debating starting therapy before and are wondering if you should really continue to put it off.  After all, it would be really difficult to get to a counseling office right now.  But you can tell they need some sort of support.  And, if we're honest, you're tired and needing something to change. 
Online therapy is a place to get the support you and your child need at the time you need it.
Online counseling, also known as online therapy, telehealth, or teletherapy connects you with one of our Scotch Plains, New Jersey therapists using a secure, HIPAA compliant video conferencing platform.  You and a Brave Minds child therapist can see and hear each other in real-time to assess and address your concerns about your child. They are there to support you through difficult times. Brave Minds child therapists have training and experience treating children with a wide range of mental health concerns including anxiety, trauma, and adjusting to difficult situations in children and teens.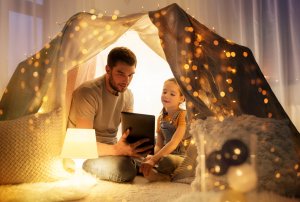 Our online therapists can help with:
Major life adjustments (including the pandemic)

Grief and Loss

Obsessive-Compulsive Behaviors

Behavior problems
You don't have to deal with the coronavirus global health crisis alone (or in isolation).
Online Therapy can help your child thrive
First, teletherapy will begin with speaking to one of our scheduling coordinators to determine if online therapy is right for you and your child.  Next, she will recommend one of our child therapists based on your family needs and schedule your initial appointment. Next, you will receive your initial paperwork through our convenient online client portal.  After your paperwork is complete, you will receive a secure email with information about your first telehealth session, including a link to meet with your therapist at your scheduled appointment time. Your first session will be an opportunity for you and the therapist to discuss your child's needs without your child.   From there, you will plan out therapy.
Therapy for your child can unfold in a number of ways.
Individual Therapy:
Therapy with children is about entering their world.  Children best express themselves through play, imagination, and connection.  Play has always been a pillar of therapy with children. Naturally, this is the same in online therapy with your child.  
Your therapist will provide you with a list of suggested items to have available for you and your child.
Paper and markers or colored pencils

Stuffed friends

Kinetic sand

Miniature toys

Puppets

Clay or play doh

Favorite toys
Your child's therapist works with your child to use these items to identify their emotions and express their fears and concerns.  Books are also used as a resource and skills are developed through the use of play and directed guidance from the therapist. Worksheets for your child to complete in or between sessions might be provided.  Also, strategies to calm intense emotions are practiced in real-time together with the therapist. Your child can work with the therapist online to develop positive self-talk and skills to manage upset. The therapist plays in real-time with your child so your child can feel connected in the activity.  In addition, during these activities, your child will be able to talk with the therapist about their concerns.
Parent Coaching:
There are many challenges that children experience that can be alleviated through parent coaching. Parenting is hard and parent coaching provides you support as you receive help understanding what is going on and using some new parenting tips. A trained child therapist works with you, the parent, to understand your child's challenges. Then, implement more positive parenting techniques. Next, you can develop desirable skills in your child. Finally, you'll modify the environment to help your child perform their best.  Moreover, this form of therapy for children has always been a critical part of treating childhood struggles.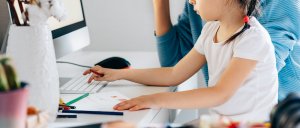 Parent-Child Therapy:
Parent-child therapy can treat a wide range of mental health concerns.  For instance, it can help if your child is struggling with  anxiety, depression, and struggles adjusting to a troubling event can be treated.  To clarify, this kind of therapy involves the parent and the child working together in session.  Online therapy for children provides a good medium for this. Here, the therapist works with the parent and child to apply therapeutic interventions together. Additionally, the bonding that occurs can amplify the impact of therapy techniques.
Begin Online Therapy in New Jersey with Brave Minds therapists today.
You and your child don't have to struggle alone.  You deserve support during this very stressful time.  Let our skilled and caring child therapists provide a safe and comfortable online therapy experience right here in New Jersey. To begin counseling, there are a few simple steps:
Get your questions answered in a free phone consultation call with one of our

compassionate therapists

.

Start your journey in teletherapy today!
You may still have questions about online therapy…
What ages are appropriate for online therapy for kids?
Luckily, kids of all ages can benefit from online therapy. If your child is 4 and up, our skilled therapists can work with your child providing individual and/or family sessions. For children under the age of 4, family sessions, where parents and children both attend, are available. In fact, parent coaching is also an option.
What if my child resists online therapy?
It's natural for children to be unsure of something new. However, if you want to engage your child in online therapy but they are resistant, there are solutions available. In many cases, the therapist can begin working with you, the parent, to discuss your child's needs. Then, the therapist can provide you with tools and techniques to use with your child between sessions. From there, you and the therapist can explore ways to engage your child in the process. In some cases, simply inviting your child into the room to observe a session between you and the therapist can ease some discomfort. By allowing your child to observe, they can become more familiar with online therapy and the online therapist. Perhaps, they'll even show the therapist their favorite toy/personal item.
Have more questions? Check out our telehealth Q&A.
Located in Union and Somerset Counties, Brave Minds is proud to serve the therapy and counseling needs of residents in Scotch Plains/Fanwood, Westfield, Cranford, Clark, Branchburg, Bridgewater, Somerville, Raritan, Readington and surrounding areas.