As a parent, it is very difficult to see your child struggling.  Is your child experiencing any of these?
Over-active worries
Clinginess
Irritability
Temper Tantrums
A drop in academics
A sadness that just doesn't go away
Children express their pain and grief through how they act.  They act out because their system is immature.  They become overemotional, insecure, and cranky.  As a result, you may be feeling frustrated.  Probably overtired, if they aren't sleeping well.  Moreover, you may be feeling critical of them and yourself too.  Sometimes it's a difficult life transition, a painful event, or a traumatic experience that has left your child confused and out of sorts.  You may be wrestling with how to help them.
Families
Naturally, families are the foundation for children to experience safety, security, and strength. Family therapy can help children and parents come together to solve a problem, grieve a loss, adjust to a change or experiment with new ways to be attuned to each other.  When families work together, the strengths of the individual can be multiplied by the whole household.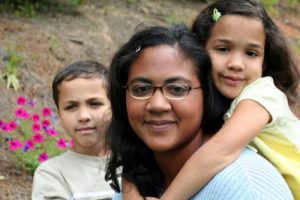 Therapy
Our therapy with children combines creativity, playfulness and skill development to help your child gain competence at self expression, navigate their inner world and increase their relational skills.  We work closely with you to understand the struggle and tap into your fortitude to create a calmer home.
With the proper support, children are incredibly resilient.  They are capable of not only overcoming their difficulties but excelling and blossoming to reach their full potential.
Difficulties adjusting to a change (e.g. divorce, remarriage, new school)
Grief/Loss
Reactions to a painful or traumatic experience
Individual Therapy
Family Therapy
Parenting Support and Coaching
Play Therapy
Cognitive Behavioral Therapy
Trauma Focused-Cognitive Behavioral Therapy