You feel isolated. Alone. Without a friend or partner who understands what you're going through. Maybe you're a teen trying to navigate complex experiences and feelings during a wild time in the world. Or, perhaps you're a new mom with a brand new baby dealing with the confusing dichotomy of loving your new role and grieving your old life. You may be a person who knows your "people" are out there but don't know how to find them.
Group Therapy Can Help!
We often hear from clients that while individual therapy is awesome, they want to meet more people who "get it". While group therapy isn't the best thing for everyone, we know groups can be an exceptional asset. Group therapy with our Scotch Plains, NJ therapists can help folks with various issues, including: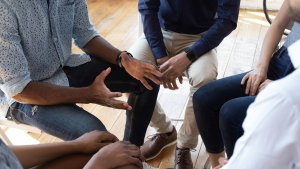 Those who need to bolster social skills

Emotion regulation skills groups
Group Therapy Approaches
CBT (Cognitive Behavioral Therapy)
groups identify behaviors and focus on skills for change. This is what many of the traditional "group therapy" groups stem from.
However
, there are also support and process groups.
These are more focused on promoting growth among members who are experiencing similar things
. These groups help people unpack what's happening. Since there is no specific skill to build, there is often no agenda. Group members bring topics, questions, or concerns and the group flows from there.
On the other hand
, in psychoeducational groups, knowledge is power! Psychoeducational groups focus on building your knowledge base. For example, you may learn specific definitions or new coping skills.
Whichever type of group you are in, studies have also found lots of benefits to therapeutic groups
. In fact, input from peers maybe even more helpful than tips from a professional. Groups give you a chance for this peer support/input.
Open Vs. Closed Therapy Groups
Also, it's important to know that some of our therapeutic groups are open while others
are closed
. An open group means that members can join or leave at any time.
On the other hand
, a closed group only accepts new members at very specific times.
Therefore
, if you're looking to join one of our closed groups you may need to wait until a new group session to join.
Benefits of Group Therapy
Honestly, there are many, many benefits to the group therapy setting! And the benefits vary based on what type of group it is and who is participating. However, here are a few of our favorite benefits we frequently see when people participate in our therapeutic groups:
Group therapy provides support
Therapy groups can instill hope
Group therapy can increase your confidence and self-esteem
Therapy groups provide a sounding board
Groups can propel you forward
Therapy groups promote social skills
Group therapy costs less than individual counseling
Groups teach you about yourself
Sharing can be healing
The general sense of belonging that being a part of a therapy group can provide is healing. Think about the power of the phrase, "me, too." ​​It can be a huge relief to hear from others about their concerns, questions, and issues. The ability to discuss what other members are going through is key. It is freeing and validating to realize you're not alone. Group therapy usually includes members at different stages of treatment. This means that you are able to see people who have made the changes you want to make! These types of groups can celebrate the successes and progress of different members together. Members further along in their journey can be encouraging to other members.
How to Get the Most Out of Group Therapy
Deciding to participate in a group can be a big commitment. And once you make that commitment, you want to make sure you get as much as possible out of the experience.  Here are some things to keep in mind that our therapists have found to help people get the most out of participating in group therapy.
Remember that you are in control of what you share, and lean into the support and safe space provided by the group when you feel comfortable
Listen to the stories shared around you. You might gain new perspectives on your own struggles, or feel that you aren't alone in what you are going through
Sharing is healing – open yourself up
Share your insights and advice for others, helping someone else can be a great confidence boost
Practice communicating with the group to strengthen your communication skills in your personal relationships outside of the group
Celebrate your successes with the group! This can feel great for you, and be encouraging to others
You may still have some questions about group therapy. We understand! Here are some of the most common concerns and questions we get asked:
I think

I am going to have a hard time sharing my struggles in front of other people.
You have complete control over what, and how much, you share with the group. Listening to others in the group speak is
just
as valuable as sharing yourself. Oftentimes listening to the stories of others can help you feel less alone in your struggles.
You may feel more comfortable sharing your experiences and thoughts once you've heard from your fellow group members
. It often helps to know you are in a safe space.
Am I

really

going to do therapy with strangers?
Yes. And it will be ok.
Through group therapy, you'll come together with other people around a shared struggle or experience
.
Through this experience, group members will
quickly
become more of a support system than strangers
. Our
 group leaders are good about building rapport! We understand members worry about it being awkward. But we've done this before. We know how to help bring people together. For example, our therapists & group leaders may start with ice
 breakers or prompts. This allows group members to get to know each other before the sharing and therapy work begins.
Can I do both group and individual counseling at the same time?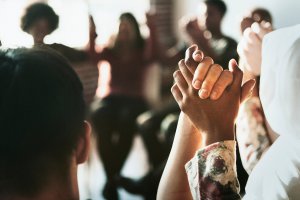 Yes!
Group and Individual Therapy will work on different goals and can expand your personal growth when you use both at the same time
. Group is a great time to practice the skills you learn in individual therapy.
On the other hand
, individual therapy serves a different purpose. Your individual sessions are a great time to dive deeper into a new experience.
Or, individual therapy can be a place to share insight that you may have learned from sharing/ listening to your group members
. Then, you and your individual therapist can explore how this new insight can help in your life.
Why am I

being recommended

for group therapy instead of individual therapy?
Group therapy
is recommended
when it seems like an effective method to help you.
Group can
be recommended
as a way of getting started in therapy before trying individual therapy, or as an addition to individual therapy
.
Depending on what you come to therapy for, a group might be an appropriate fit to share your experience with others going through the same thing
. This can make you feel less alone and can give you
additional
support.
Group therapy will take longer than individual therapy because I will have to share the time with others

.
Group therapy is beneficial and efficient when you listen
carefully
to others. Through the stories of your group members, you may learn more about yourself. Then, you may hear about an issue or point of view you never considered before. This can increase your growth and progress, even if you aren't speaking the entire session.
Is now the right time to start group therapy?
Of course, starting the group at the right time matters.
An acute crisis is more appropriate for individualized therapy and likely won't be enough support for your needs at that time
.
Our intake team can help you determine which type of therapy is going to be the best fit for your unique needs at this point
.
Begin Group Therapy in Branchburg and Scotch Plains, NJ
Group therapy can be a group tool on your road to healing. Our group therapists have seen the power of members coming together, sharing stories, providing support, and offering perspective.  If you are ready to give group therapy a try, we'd love to talk to you about group openings at our counseling practice. Our trained and caring therapists both offer group therapy services at our therapy practice in Branchburg and Scotch Plains as well as offering online group therapy in New Jersey. The next steps to finding the right group for you are:
Connect with Brave Minds Psychological Services today for a free consultation phone call.
Get your questions answered by one of our group therapists.
Begin connecting with others and healing as you participate in a therapeutic group
Other Counseling Services At Brave Minds Psychological Services
At Brave Minds Psychological Services, we believe in the power of group therapy. That said, we also offer other mental health services outside of groups.
Our therapists offer child counseling. Along with more general counseling for children, we specialize in anxiety treatment for children and child sexual abuse therapy. Additionally, we have therapists who specialize in offering therapy for teens, including counseling for teens with anxiety and social phobia treatment for teens.
Additionally, we offer a wide range of mental health services for adults including anxiety treatment, couples therapy/marriage counseling, support for parents, counseling for postpartum depression, OCD treatment, bereavement counseling, and food allergy therapy. Finally, we have specialized trauma therapy and PTSD treatment. This includes counseling for birth trauma, pregnancy loss and miscarriage, equestrian trauma, and sexual assault counseling for adults,
We also have a blog where we write about a variety of different mental health subjects. If you're interested in learning more about our services here at Brave Minds Psychological Services or online, please contact our Branchburg and Scotch Plains counseling office!
Located in Union and Somerset Counties, Brave Minds is proud to serve the therapy and counseling needs of residents in Scotch Plains/Fanwood, Westfield, Cranford, Clark, Branchburg, Bridgewater, Somerville, Raritan, Readington and surrounding areas.