Has Loss and Grief Turned Your World Upside Down?
When you wake up reality hits. The weight on your chest reminds you that it wasn't a dream, that today will bring all the dark pains of yesterday and the day before that. You don't know if you can even get out of bed, and you long to hide and pretend this isn't happening.
When you can muster the energy to climb out of bed, you don't feel like yourself. You might have thoughts like…
People are going to ask how I'm doing, and I don't know what to say. What if I start crying? How will I put on a brave face? Everyone expects me to carry on, but they don't understand.
When you're dealing with loss, each day can feel like an eternity. On top of your other responsibilities of going to work, taking care of family, and socializing with friends, the added stress can feel impossible to manage. Every day your heart feels heavier. You might wish that life could return to the way it was, that if you could just feel normal again, everything would be okay. The well-meaning sentiments from others about fate, finding peace, or staying positive don't seem to lend any comfort, leaving you feeling even more alone.
If your grief is the loss of a pet or animal friend, you may feel particularly alone as many people struggle to relate to the pain of losing a pet.  We see you too.
Grief Is A Process
You may be familiar with the stages of grief. Immediately after experiencing loss, you might be in shock, feel scared, panicked, or incredibly sad. 
Once the initial shock subsides, confusion settles in. Many people struggle with thoughts like:  
How could this happen?

Why is this happening to me?

I don't deserve this.

I work so hard; do I really have nothing to show for it?
While everyone experiences grief, everyone's grieving process is unique. Grief does not happen in clean, organized steps but rather in unpredictable waves of emotion. In the waves of grief, you might be… 

Wishing things would go back to normal.

Wondering what you could have done differently. 

Questioning your future and purpose in life.

Scared of experiencing another loss.

Feeling lost

The list goes on… 
Right now, the thought of moving forward may be impossible to imagine… 
Will I survive this?

How will I ever get through this?

Can I ever get back to normal life or work?

I feel so alone.
If you've lost a loved one to death, you might also be struggling with closure and the finality of loss: 
How will I ever get closure when I couldn't say goodbye?

I can't believe I'm never going to see them again.
We All Experience Grief and Loss
"If we choose to love, we will grieve" -David Kessler.
We all experience grief but that doesn't make it any easier. The most common losses include death and pregnancy loss, job loss, divorce, and other major life changes. We are in the midst of COVID-19 pandemic, which has caused a loss on a global scale of jobs, safety, calm the world we once knew and even loved ones. The grief is intensified by isolation and fears of personal survival.
You Are Not Alone
The world is changing, and you are grieving, but you are not alone, and you don't have to keep your feelings locked inside. While other people may not know how to appropriately respond or support you (you might even sense those around you waiting for you to move on), there is hope. 
Therapy for Loss and Grief Counseling Can Help You Heal
There is no cure for grief, but it is possible to live a meaningful life despite the pain. 
Healing begins by allowing yourself to ride the waves of grief. At Brave Minds, you have a dedicated safe space to journey the grieving process. With the support of an attentive therapist, you can carefully bring awareness and kindness to your unique experience. When you're ready, we'll offer acute perspectives and tailored coping skills to help you process the loss in healthy ways. The support you receive here will help you feel increasingly less alone and more hopeful.
There is no timeline for grief. Without judgment or expectation, your therapist will guide you through the process. Loss can change your entire world and how you view yourself and others. Here, your loss will receive acknowledgment and respect, and at your pace, we will discover pockets of hope. 

There is no "right" way to grieve
Every loss is unique, and thus, so are the coping mechanisms. Your grief therapist will offer healthy tools that fit your needs and beliefs. The healing process is entirely your own. We are here to walk with you and keep you safe throughout this difficult journey. 
Our therapists are compassionate professionals who understand the heavy pain of loss. In the context of your therapeutic relationship, you will find that being seen, heard, and feeling understood is integral to healing. With the right support, it's possible to not only discover hope but perhaps a profound new perspective on life. 
You may still have concerns about seeking help…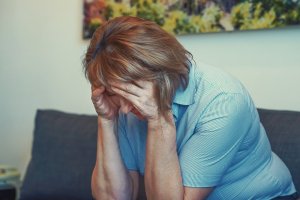 Therapy isn't going to change what I've lost. There's nothing a therapist could say that would take away my pain.
It's true that even the most therapeutic, calming words can't remove the pain of loss. But we can help you carry the pain. Grief therapy is less about changing what's gone and more about helping you grow stronger to make the burden easier to carry. You have incredible strength, and sometimes we all need help finding it. 
I recently lost my pregnancy.  Everyone seems to think I should just move on.
Losing a baby, even before they are born, is a devastating experience that can be hard to heal from.  We even have compassionate therapists who are passionate about the unique healing process of pregnancy loss.  Regardless of the reasons, pregnancy loss is more painful and difficult than most people understand.  This is why it is critical to reach out to get the unique support you need.
Right now is not the right time for grief therapy.
There is no timeline for grief.  Whether it happened yesterday or years ago, grief therapy can offer coping skills that improve every aspect of your life. Your health and wellbeing are invaluable, and you deserve support to help subside your suffering – suffering that could continue needlessly without the right resources. 
Are you going to tell me to think positive? 
No. We are going to create space for you to express and process true feelings. You don't have to feel burdened by carrying this weight all by yourself. Seeking out help is a testament to your incredible strength and bravery. Let us be here for you during this hard time. Pick up the phone or fill out the form to start the healing today. 
Begin Therapy for Loss and Grief in Branchburg and Scotch Plains, NJ
Life can be brighter and more hopeful, with grief counseling at Brave Minds Psychological Services. Our trained and caring therapists at our counseling offices in Branchburg and Scotch Plains are waiting to give you the best grief counseling available. If you'd prefer to meet with a counselor via video session, we can offer online therapy in New Jersey. To begin grief counseling, follow a few simple steps:
Connect with Brave Minds Psychological Services today for a free consultation phone call.
Get your questions answered by one of our compassionate grief counselors.
Begin feeling more hopeful about your life from today forward.
Other Therapy Services At Brave Minds Psychological Services
At Brave Minds Psychological Services, we offer a variety of services from our licensed therapists in order to get you on the right path to healing. Our therapeutic services include therapy for children, with a special focus on anxiety treatment for children and child sexual abuse therapy. We have specialists doing therapy for teens, specifically anxiety treatment for teens and teen social phobia therapy. Our adult therapy services include anxiety counseling, couples counseling, counseling for parents, postpartum counseling, OCD therapy, food allergy therapy, and group therapy. Finally, we have specialized trauma therapy and PTSD treatment areas for birth trauma, pregnancy loss and miscarriage, and sexual assault counseling for adults,
We also have a blog where we write about a variety of different mental health subjects. If you're interested in learning more about our mental health services here at Brave Minds Psychological Services, please contact our Scotch Plains and Branchburg counseling offices!
Located in Union and Somerset Counties, Brave Minds is proud to serve the therapy and counseling needs of residents in Scotch Plains/Fanwood, Westfield, Cranford, Clark, Branchburg, Bridgewater, Somerville, Raritan, Readington and surrounding areas.