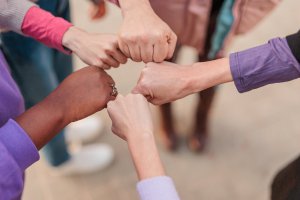 It was Friday morning, and I had just gotten out of seeing a client. I quickly checked my phone and saw that a few friends had been texting and calling. "Have you seen the news?" they said with a slew of angry and crying emojis. Roe vs. Wade had been overturned. Of course, we knew this might be coming after the leak, but it didn't make the news any less horrifying. I felt sadness, anger, and quite frankly rage. I thought about what this means for our country. Reflecting on my clients, and the countless individuals in anti-abortion states who have had their reproductive rights stripped. 
As a trauma therapist in Scotch Plains, NJ, I want to say that if you are experiencing overwhelming emotions related to this ruling, you are not alone. For many, the news of Roe vs. Wade being overturned is a traumatic event, having the potential to cause further trauma of unwanted pregnancies and deliveries. To help us understand our body's response, and ways to cope or move forward in advocacy, let us begin by understanding Roe vs. Wade, and what its overturn means. Then we will learn about trauma. Why this can be a traumatic event for many, and what we can do to move forward.  
Roe vs. Wade
Roe vs. Wade was a landmark supreme court case in which the Supreme Court ruled that state regulations over abortion are unconstitutional. The case began in 1970 when a woman named Norma McCorvey took federal action against Henry Wade, the district attorney of Dallas County in Texas, the state in which she lived. Norma became pregnant and wanted an abortion. This was restricted by Texas law where it was only legal if the mother's life was in danger. During this ruling, the court placed the point after which a state can regulate abortion at approximately 24 weeks when life of the fetus was viable. This was a huge win for reproductive rights. Giving more autonomy and choice to the pregnant individual to choose to terminate their pregnancy before the second trimester.
In 2021, reproductive rights came into the media again. The Supreme Court reviewed a lower court's decision to stop a 2018 Mississippi state law that banned most abortions after 15 weeks of pregnancy. Fifteen weeks of pregnancy is well before the point of fetal viability. Although clearly unconstitutional under Roe vs. Wade, Mississippi hoped for this to be brought to the Supreme Court to re-assess this landmark ruling. In May of 2022, it was leaked that the Supreme Court was going to overturn Roe vs. Wade, stating that there is no constitutional right to an abortion. When the overturn became officially public news on June 24th, 2022, many in the nation were shocked, horrified, sad, and enraged. Reproductive rights are now left up to the state. Many states immediately decided to ban abortion with little to no exceptions for mother's health, rape, or incest.
Tips from a Trauma Therapist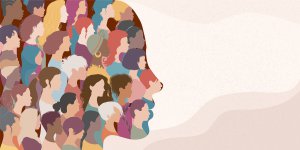 Now, what is trauma? And how can the overturn of a Supreme Court ruling be a traumatic event? Trauma overwhelms your ability to cope and changes the way in which you view and interact with the world around you. Trauma can range from events such as experiencing sexual abuse, childhood poverty, witnessing violence, or experiencing racial, sexual, or gender identity discrimination. With the overturn of Roe vs. Wade, many individuals may be experiencing trauma as they think of the lack of safety and autonomy of others. Or in thinking of the ways in which this will impact lower socioeconomic status individuals and people of color at a greater level. The Open Society Foundation calls this "an assault on women and democracy globally", it is clear how this feeling of assault can lead to a trauma response in individuals hearing the news. 
Firstly, I would like to normalize the body responses you may have felt when you heard the news. Perhaps you went numb, became nauseated, and began to cry. During a time when so many in the country are being stripped of their rights, you may feel helpless. However, I encourage you to take care of your body, rest and use your voice if and when you feel called to do so. 
Self-Care and respecting your body's needs:
At this time when you are worried about the rights and protections of others being stripped, thinking of yourself may come last. Perhaps you live in a pro-choice state and are worried about others who live in pro-life states. This can make you feel like you are your last priority. However, we can't help others if we aren't taking care of ourselves.
Start out with some deep breathing. In through your nose, out through your mouth with a longer exhale. Have a glass of cold water, stretch your body, move to some of your favorite music, and provide your body with nutrition. Rest is also important. Although you may feel guilty about taking a rest, force yourself to do so. If you struggle with this, perhaps you may want to find a self-care buddy. My friend and I have been checking in with each other, encouraging rest and enjoyment, while also discussing our unique advocacy journeys. Find enjoyment in moments with those you love and engage in your passions to fuel your self-care time. It can be inspiring! 
If you are feeling stuck:
If you are an individual who feels passionately about bodily autonomy and the right to choose, and your body's response to this trauma was to shut down, you may be feeling horrible. This may sound like you, and your body is just not giving you the energy to mobilize due to the overwhelming emotions, don't fret! Give your body the rest that it so needs right now!  It is ok to retreat to your bed and grieve.  When you are ready, there are other ways that you can help while you take care of your body and work on feeling better. Some things you may want to look into are: educating yourself and gathering resources, spreading education, and making donations to abortion funds. There are many valuable ways to involve yourself. 
If you are feeling sprung into action
: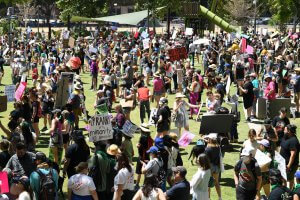 You may want to look into some local protests or organizations doing this work on a larger scale. Get out there, and peacefully make your voice heard. Engage in uncomfortable conversations with others, and spread awareness and education. 
It is important to remember that advocates deserve support too. Even if you live in a protected state, or you couldn't make it to that rally you had hoped to join, you are still worthy of support. As we continue to process the news, and move forward with the fight for bodily autonomy, freedom of choice, and reproductive rights, we must all incorporate respecting our own body's needs.  We must take care of ourselves and each other. If you continue to experience overwhelming emotion related to the news and it is impacting your quality of life, a trained trauma therapist can help you to cope and reach your goals. 
Learn more about our Trauma Therapy Services
Contact us for a free video consultation.
Get Support From A Trauma Therapist in Scotch Plains & Branchburg, NJ
Are you struggling with trauma responses following the overturn of Roe vs. Wade? Being kind to ourselves and practicing self-care is a great place to start. However, sometimes we need a little more support than that. The trauma therapists at Brave Minds Psychological Services are here to support you through this time. To get started in trauma therapy follow these simple steps.
Reach out to talk with a trauma therapist.
Make your first trauma therapy appointment at Brave Minds Psychological Services.
Work through the trauma that so many women are feeling right now.
Other Mental Health Services We Offer in Scotch Plains, NJ and Branchburg, NJ
Brave Minds Psychological Services offer to support you and your family. We provide individual EMDR trauma therapy, food allergy therapy, and couples counseling. As well as, postpartum counseling and birth trauma therapy. Our services for children and adolescents include teen anxiety treatment, social phobia therapy for teens, child sexual abuse therapy, child anxiety treatment, and more. Our services are offered in person at our New Jersey-based office and through online therapy.