You and your teen are struggling with the impact of the COVID 19 pandemic, and you're not sure what to do next. The adjustments to everyone's lives have been dramatic. New Jersey schools have closed.  Colleges and Universities across the globe are now online until 2021. Prom is canceled. Graduations are online. Standardized testing isn't available. Even dating and trying to get together with friends is pushed online in a really odd way.
This pandemic is affecting everyone's mental health. Parents, teens, and family members are all struggling with the fallout from COVID 19.
Parents are frustrated and concerned.
You are truly worried about your teen but also at your wit's end trying to connect with them. Of course, parents are worried about their teen's future. Some parents feel like they are walking on eggshells and everything they say is wrong. Others see their teen isolating, crying, having panic attacks, and have already tried everything they know to help.

Teens and young adults are confused and worried.
Across the globe, teens are feeling misunderstood. Feeling guilty for fighting with parents, now around most of the time. Then, getting frustrated by their parent's reactions to the increased stress. Of course, high school students are getting sad, confused, and anxious. Friendships and connections are strained and tested in a new way, which can make you feel like you don't have any real friends anymore. Often, a crisis can have teens questioning their sense of self-identity and self-worth. Understandably, everyone is questioning the future right now.
College students have a whole new list of worries.
This is not what you signed up for. The "college student experience" we all expected this year has taken a major turn. Suddenly, all of your classes are online. Now, maybe you've been forced to move out of your dorm or apartment.  You're unexpectedly living back home.  Your parents are fine, but this simply wasn't what you had planned. At best, you are forced to adapt to a new reality. One in which you are at the mercy of equally confused professors who weren't prepared to deal with this crisis either.
Online therapy for college students in New Jersey can help you deal with this "new normal"
More issues college students are currently dealing with include:
Performance Pressure

Relationships

Academic load

Worries about the future

Second-guessing decisions about majors, schools, friends, etc.

Financial stressors

Anxiety and overwhelm
Depression and insecurity
College students and teens are a great fit for online counseling!
Online therapy is good for teens because they are already using media such as FaceTime or Zoom. They have experience connecting with people online. Unlike past generations, they have grown up making connections over the internet. teens feel confident in their capabilities when it comes to technology. And, many times, feel more comfortable communicating through a screen.
While some adults might have a tough time being vulnerable and open via technology, teens often are not
.
Furthermore, teens and young adults who may feel shy, reserved, or
socially
anxious may find it intimidating to come in for a counseling appointment
. In this case, they may feel more comfortable meeting with a therapist online. It may be easier to open up to someone when they are sitting in their own room. Often, online therapy provides a more comfortable experience in a familiar environment. Now, you can get therapy in New Jersey from the comfort of your home. In fact, there are many benefits to not having to travel to and from appointments.  Online counseling saves time, money, and hassle.
Ever think a therapist would be perfect for you only if they were closer? Now, this is possible.
Signs it might be time for your teen to start online therapy in New Jersey
Not even trying to connect with others in the midst of social distancing

Repeatedly asking for reassurance

Panic attacks

Compulsive behaviors including compulsively following media coverage, washing

Hand, checking, taking their temperature, etc

Angry outbursts

Overwhelmed by worst-case scenarios

Health

anxiety

Crying

Sleep issues (sleeping too much, too little, or restlessly)

Lack of motivation

Not interacting with family

Feeling helpless

Workaholic/perfectionistic mentality
Online therapy in New Jersey: How to get the support your teen needs.
Online counseling is also known as online therapy, telehealth, video therapy, or teletherapy. Our video therapy service connects you with one of our Scotch Plains, New Jersey therapists. Of course, the system is secure, private, and HIPAA compliant.  You and a Brave Minds therapist can see and hear each other in real-time to assess and address your concerns about your teen. Of course, we are here to support you through difficult times. In fact, Brave Minds therapists are experts at helping teens and young adults adapt to life changes.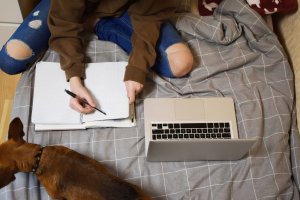 Our online therapists can help with:
Major life adjustments (including the pandemic)

Grief and Loss

Obsessive-Compulsive Behaviors

Behavior problems
Luckily, you don't have to deal with the coronavirus global health crisis alone (or in isolation).
How Online Therapy for Teens at Brave Minds Works
First, you'll speak to one of our scheduling coordinators.  Next, she will recommend one of our teen therapists who sounds like a good fit. This will be based on your family's needs and schedule your initial appointment. Then, fill out your initial paperwork through our online client portal. After the paperwork, you will get a secure email with information about your first telehealth session. In this e-mail, a link to meet with your therapist at your scheduled appointment time. Your first session is a chance for you and the therapist to meet, discuss your needs, and make a plan for therapy.
The Brave Minds Approach to Online Therapy for Teens
Telehealth with our New Jersey therapists will help teens understand their feelings. Whether depression, panic, OCD, grief, and anxiety— we can help. Knowledge can be powerful. Of course, therapy can put how you are feeling into perspective. Often, we'll help establish a routine to get some immediate relief. Then, we'll dig into the ways of thinking that may be making the pain or confusion worse. 
Specific Evidence-Based Approaches
Our therapists believe in providing therapy and mental health services that work. We want to see your teen make real progress.  So, we use evidence-based counseling techniques when we're in our counseling office.  That doesn't change just because we're seeing your teenager online.  Some of the evidence-based approaches to online therapy our staff offer for teenagers include Cognitive Behavioral Therapy, Mindfulness-Based Stress Reduction, Mindfulness-Based Cognitive Behavioral Therapy, exposure, and response prevention. Because we know you might want some more specifics, here are some things you might expect in therapy:
Worksheets/links online as 'homework assignments' between sessions.

For instance, your teen's therapist might assign a goal-setting worksheet using a SMART goals outline

. Or, the assignment could be mindfulness exercises.

Consider a notebook, whiteboard, or jot down in their phone note section tips and takeaways from sessions.

Maybe, logging mood throughout the week, sleep, and automatic thoughts that pop-up

Diffusion exercises: 1x/daily "I am enough"; "this is anxiety"; "I feel sadness"; "this is temporary"

CBT for sleep: keep track of sleep habits and patterns. Then, work together to collaborate on small steps towards better sleep (i.e. week 1: device shutoff, week 2: meditation before bed, etc)

Behavioral activation for depression/low motivation. Next, create a calendar of energizing activities starting small (i.e. 10 jumping jacks/day)
Sound interesting? We would love to help you. Therapy for teens and young adults will help build independence and self-awareness. Truly, you'll learn more effective communication skills and self-confidence. Perhaps, you'll gain more responsibility and direction while continuing to stay connected to key individuals in your life. Ultimately, we want you to feel more empowered and more secure in your life. What are you waiting for?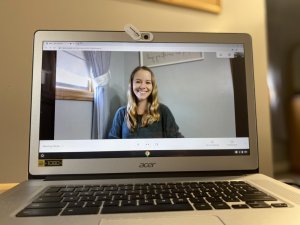 Begin Online Therapy for College Students and Teens in New Jersey with Brave Minds therapists today.
Teens do not have to struggle with the realities of today's world in isolation. You deserve support during this very stressful time.  Please, let our skilled and caring therapists provide a safe and comfortable online therapy experience right here in New Jersey. To begin counseling, there are a few simple steps:
Next, next your questions answered in a free phone consultation call with

one of our

compassionate therapists.

Then, watch your teen develop confidence as they participate in online therapy!
You may still have questions about online therapy.
We know this whole concept of meeting with a teen therapist online might sound strange. Maybe, you think traditional therapy is best. However, meeting with a counselor online can be fantastic. Our therapists are able to provide support to you and your teen from the comfort of your own home or anywhere in New Jersey. If you're still curious about what this looks like, check out our telehealth Q&A.
Located in Union and Somerset Counties, Brave Minds is proud to serve the therapy and counseling needs of residents in Scotch Plains/Fanwood, Westfield, Cranford, Clark, Branchburg, Bridgewater, Somerville, Raritan, Readington and surrounding areas.