The effects of experiencing a traumatic birth are real, unanticipated, and often misunderstood. In fact, between 25-35% of parents will struggle with birth trauma. Around 9% of these individuals may experience the symptoms of Post Traumatic Stress Disorder (PTSD) after birth.
Perhaps this post-birth scenario sounds familiar: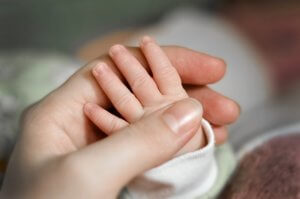 You have been dreaming about this day since the joy of your positive pregnancy test. Over the past 9 months, you do your research and read all the books. You carefully plan everything you want and think is best for you and your baby. Perhaps, you wrote out a birth plan and shared it with your provider. Then, the big day finally comes. On this day, you will bring your beautiful and oh-so-loved baby into the world.
However, things did not go as you imagined. Instead, your entire world is turned upside down in a matter of minutes, hours or days. But, this was not what you planned for. In fact, nothing seems to have gone as you had hoped. Now, that birth plan went out the window and it's not even clear why.
Now, you are left replaying the day over and over again in your head wondering what went wrong.
This is called birth trauma.
When your birthing experience doesn't go as expected, you may be overwhelmed with feelings of sadness.  Once something like this happens, it's okay to take the time to grieve the birth you wished you would have had. But, this doesn't take away from the love you have for your baby!
After this experience, you may be struggling with frequent thoughts of the birth experience. It's possible you can't stop envisioning the threats that may have come to yours or your child's life.  You may be doubting yourself, wondering if this is what most people feel after birth. Worried that if you were to reach out for help, it may mean you aren't a good parent. After a traumatic birth, perhaps you or your child was hospitalized for an extended time. You may feel robbed of certain experiences like immediate skin to skin, breastfeeding, or spending the first few weeks of your child's life at home together. This can be extremely hard to cope with, and may even cause fits of anger or rage.
Frequent intrusive thoughts related to your birth may cause:
overwhelming physical distress

sweating or nausea

replaying events of the day in your mind, and feeling as if you are reliving them

nightmares

avoidance of anything that reminds you of your birthing experience

outbursts of anger

difficulty caring for or bonding with your newborn 

feeling like a failure
Struggling with this life-changing, and at times life-threatening experience does not make you a bad parent. In fact, getting help is one of the bravest things you can do to help you be your healthiest self for you and your child.
The Brave Minds Approach to Birth Trauma Therapy
In order to give you the best possible counseling after a traumatic birth, we work to create a safe space to explore your birth without judgment. Because of the stress you've been feeling, we know that this experience affects you and your entire family. Our caring and skilled therapists will help facilitate communication with your partner around the birthing experience. Some people even find it beneficial for their partners to join for a few sessions to work through the experience together.
We now offer effective, private and secure Online Therapy for residents of the state of New Jersey.  You can now get help from an online postpartum therapist in the comfort of your home.
For some people, using the CBT (Cognitive Behavioral Therapy) approach will help. In therapy for birth trauma, you can find new and useful coping skills to cope with triggers as they arise.  Therapy helps calm the pent up anxiety and trauma in the body and integrate your story into your life experience so that it doesn't interfere with daily life. At Brave Minds, we will teach you strategies to calm the body and the mind. We will help you feel more in control and less emotionally overwhelmed.  In therapy, we will use talking, writing and other methods to revisit memories so that they can find space in your history and not continue to replay these trauma experiences over and over again.
Empowered Parents Are Healthier Parents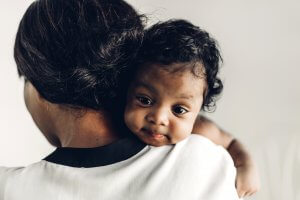 We know that as a new parent, it's important to take care of your basic needs. Food. Water. Sleep. Movement. Human connection. Birth trauma therapy can help you feel more empowered.
After therapy, you may have a new acceptance of your birthing experience. The experience may have been unexpected, unfair, and scary. But, therapy can help you move forward. Your birthing experience does not have to be something that you feel stuck in, unable to move forward. You can find strength through your experiences, and be the parent that you have envisioned.
You might be curious about relating to yourself and your partner during this transitional time. We have a number of relevant blog posts for new moms, including:
Begin Healing From Birth Trauma In Scotch Plains or Branchburg, NJ
Your birth trauma does not define you. Life can be brighter and more hopeful, with birth trauma therapy at Brave Minds Psychological Services. Our trained and caring therapists at our offices in Scotch Plains and Branchburg are waiting to give you the best birth trauma therapy available. If you'd prefer to meet with a counselor via video session, we can offer online therapy in New Jersey. To begin counseling, follow a few simple steps:
Connect with Brave Minds Psychological Services today for a free consultation phone call.
Get your questions answered by one of our compassionate therapists.
Begin feeling more hopeful and heal from your birth experience today.
Other Counseling Services At Brave Minds Psychological Services
At Brave Minds Psychological Services, we offer a variety of services from our licensed therapists in order to get you on the right path to healing. Our therapeutic services include therapy for children, anxiety treatment for children, child sexual abuse therapy, therapy for teens, anxiety treatment for teens, teen social phobia therapy, adult anxiety counseling, couples counseling, counseling for parents, postpartum counseling, sexual assault counseling for adults, and food allergy therapy. We also have a blog where we write about a variety of different mental health subjects. If you're interested in learning more about our services here at Brave Minds Psychological Services or online, please contact our Scotch Plains and Branchburg counseling office! Proud to serve Somerville, Bridgewater, Raritan, Readington and surrounding areas as well as Fanwood, Westfield, Cranford, New Providence and surrounding areas.