What is Equestrian Trauma?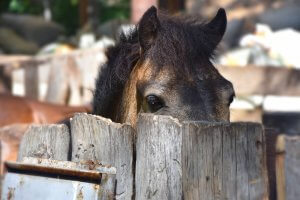 Equestrian Trauma is an umbrella term for a variety of issues equestrians may face. Indeed, equestrian trauma is not so much about the severity of the incident that occurred but rather the impact on the Equestrian's mental health. The following events may be considered traumatic:
After experiencing something similar to the aforementioned, you may find yourself: 
Feeling like you're just not yourself anymore

. Perhaps you've noticed yourself feeling irritable after your fall or after your horse's heartbreaking medical diagnosis. 

Experiencing difficulty with memory or concentration.

Maybe you can't fully recall the trauma memory or you're forgetting certain day-to-day things that you once could retain. For example, maybe you forgot to tighten your girth before you mounted. While this is something you'd typically remember, after experiencing stress or trauma, you might feel like your brain isn't working like it used to. 

Difficulty falling asleep or staying asleep.

For example, after you moved to a new barn, you may feel anxiety and uncertainty about what the new place will bring. This could leave you lying awake at night or having stressful dreams. 

Finding yourself unable to ride the way you used to. Maybe you once embraced the challenge of a difficult course, but now simply picking up the canter and doing flatwork causes anxiety.
Why work with an Equestrian Therapist?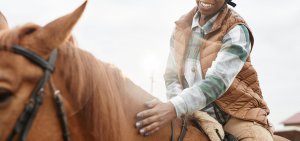 As equestrians, we know just how deep our relationship can be with our horses. They bring so much joy, along with a variety of stressors in our lives. These stressors are unlike any other experiences people outside of the equestrian community encounter. This could cause difficulty in working with a therapist who doesn't completely understand what it is like to be immersed in the horse world. You will always be the expert on your own life, your horses, and your experiences. Whether you're grieving the loss of your horse, hoping to heal and get back on and ride again, or making the decision to no longer ride, we are here to walk that road with you and give you a "leg up" if needed. 
Who We are as Equestrian Therapists
Lisa Weiss, LCSW: I am a Licensed Clinical Social Worker and specialize in trauma treatment. I help individuals heal from events such as child sexual abuse as well as equestrian trauma. I use Eye Movement Desensitization Reprocessing (EMDR), Cognitive Behavioral Therapy (CBT), as well as Trauma-Focused Cognitive Behavioral Therapy (TF-CBT) for clients under the age of 18. While these treatment modalities differ, they all help us get to the heart of the issue and begin the healing process from there. I am passionate about destigmatizing mental health within the equestrian community. I've had the privilege to be a guest on Noelle Floyd's Equestrian Voices Podcast as well as articles on the prevention of child sexual abuse in the equestrian community and what to do if your trainer says or does something that makes you uncomfortable. 
Elaine Harrison-Yau, LCSW: I am a Licensed Clinical Social Worker and I work with children, adolescents, and adults. I specialize in treating individuals with selective mutism and social anxiety disorder. In addition, I am a passionate equestrian who specializes in moving beyond anxiety and trauma to get the most out of life… I use Eye Movement Desensitization Reprocessing (EMDR), Cognitive Behavior Therapy (CBT), and Sand Tray Therapy within the therapy space. If you have experienced equestrian trauma, my intention is to help you find a place to not only heal from the trauma but to also find the confidence to get back on your horse and enjoy riding again. 
Who We Are at the Barn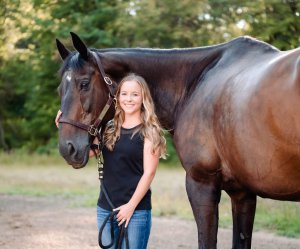 Lisa Weiss, LCSW: Hi, there! I've always loved horses and have been riding for over a decade. While I would call myself a hunter/jumper, I am not a competitive rider. I own an off-the-track-thoroughbred named Beau. He is absolutely my heart horse and we have grown so much together over the years. We enjoy jumping and flatwork, but we also love going on hacks and exploring outside the arena. The thing that horses have taught me the most is that we are always learning and growing. We can never be totally "finished" as a person or a rider.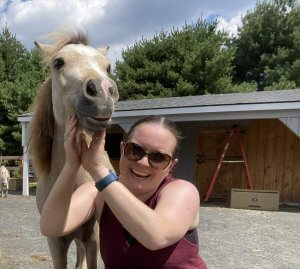 Elaine Harrison-Yau, LCSW: Hello! I began riding horses when I was just a young girl of ten years old. I immediately fell in love with everything about horses. From grooming them to mucking out their stalls to riding them. I loved it all and would spend long summer days at the barn. I rode for many years competing in show jumping and dressage, as well as taking weekly riding lessons. Although I don't ride as regularly as I would like, my love and passion for horses has never faded.
Interested in Equestrian Therapy in New Jersey?
Antiracism in equestrian communities begins with you, but our therapists can help. Whether you are an experienced rider or new to the sport, our team can provide a safe space for you in your journey. Our therapists know the ins and outs of equestrian sport culture and are here to help you process it all with equestrian therapy in New Jersey. We have options for your care, including in-person sessions at our Scotch Plains or Branchburg, NJ counseling offices. Or if you prefer, we can meet with you virtually using online therapy in New Jersey. To get started, follow the steps below.
Other Services Offered at Brave Minds Psychological Services
Equestrian therapy is not the only counseling option we have at our Scotch Plains and Branchburg, NJ-based therapy practices. Other therapy services offered at Brave Minds include birth trauma therapy, counseling for sexual assault, and general trauma therapy. We also specialize in postpartum therapy and counseling for new parents. We are proud to serve the areas of Westfield, New Providence, Fanwood, Cranford and surrounding areas as well as Somerville, Bridgewater, Raritan, Readington and surrounding areas. However, we also provide online therapy to anyone seeking services in New Jersey.