Both therapists and psychiatrists specialize in working with individuals to improve their emotional and psychological health and well-being. While both types of practitioners share the goal of mental wellness, their training and treatment styles of a therapist and psychiatrist can vary significantly.
Psychiatry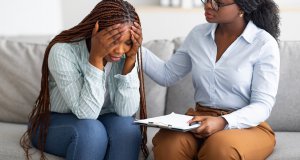 Psychiatry is a branch of medicine. All psychiatrists have attended medical school for at least four years and earned a degree in medicine (M.D.). Psychiatrists have spent at least four years in residency learning about the diagnosis and treatment of mental health conditions. Many psychiatrists will continue their postgraduate training to become additionally certified in subspecialties, such as child & adolescent psychiatry, geriatric psychiatry, addiction psychiatry, emergency psychiatry, or forensic psychiatry, to name a few.
Because psychiatrists have a degree in medicine, they can prescribe medications to manage mental health issues. They are trained in numerous treatment modalities, such as psychotherapy, family support, and hospital-based services for severe conditions. Some psychiatrists offer talk therapy services, but others will focus primarily on medication management. They will discuss your symptoms, medication options, and adjustment to new or changing medications. Medication management often does not involve talk therapy. This means a psychiatrist will refer you to a therapist for therapy services. If your symptoms are so debilitating that they interfere with daily life, you may want to pursue medication management. Even if you're not sure if you want to try medication, a psychiatrist can go over your options with you.
Advanced Practice Psychiatric Nurses (APRN) are also part of the medical field of mental health. An APRN is licensed to practice psychiatric nursing after completing specialty training in mental health care settings. An APRN may conduct physical exams, order tests, counsel on preventative care, diagnose, and prescribe medications. Many APRNs work in hospitals and larger inpatient or outpatient settings. Some may establish a private practice offer prescribing services and coordinate with other mental health care providers.
Therapy
Therapy is a branch of social science. All therapists have received education and training in the study of thought, emotion, and behavior that inform who we are as individuals. Therapists are not medical doctors, and as such cannot prescribe medicines. Therapists focus primarily on helping individuals identify, manage, and alleviate the symptoms of mental health concerns. For example, helping someone distinguish between stress and OCD and what to do to help manage it. 
There are many different types of education and training a therapist may pursue that qualify them to act as a therapist. To name a few, a therapist may have a: 
PhD (Doctor of Philosophy) which is a focus on research and clinical treatment

PsyD (Doctor of Psychology) which is a focus on clinical treatment

LMSW or LCSW (Licensed Master of Social Work or Licensed Clinical Social Worker), a degree focused on mental health and community support

LMFT (Licensed Marriage and Family Therapist) with a focus on supporting individuals and couples within their family system

LMHC (Licensed Mental Health Counselor) also focuses on mental health services and support
Which is the best choice for me?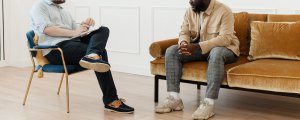 A therapist can have any of the above degrees/certifications. All of the degrees listed above train therapists in how to perform a psychological assessment, make diagnoses, and provide therapeutic interventions. Therapeutic interventions and guidance can help you cope with and manage stress, trauma, family issues, and other symptoms of mental health distress. A therapist will spend time talking with you and provide emotional support. They will challenge your thinking to deepen insight and educate you. A therapist will introduce you to psychotherapeutic interventions and encourage you in your growth.
If you want to work out an issue in a one-to-one session, a therapist may be the best fit. If you're trying to address a relationship problem with a family member or loved one, a therapist is also a good option. 
Should I see a therapist or a psychiatrist first?
The answer to this question is not easy to answer, as it will depend on your particular situation. However, mental health professionals have the training to help you make an informed decision about your treatment. Psychiatrists and therapists often refer to each other.  In some cases, both will provide care and coordinate with one another.
If you want help and don't know where to start, make an appointment with either a therapist or a psychiatrist. Any mental health provider will assess your symptoms, ask about your medical and family history, and use this information to guide you to the next steps. That includes a referral if there is a better option out there for you. Many people meet with more than one mental health provider before finding the right fit. Don't be discouraged if the first person you speak with suggests a referral.
My therapist suggested I meet with a psychiatrist. What could this mean?
There are many reasons why a therapist might suggest that you meet with a psychiatrist. Sometimes, the therapist may make this suggestion because they think medication management might be an option for you to consider. Psychiatrists can be an essential part of a comprehensive care team. Team-based care involves multiple health professionals from different disciplines working collaboratively to ensure your entire well-being is considered in all treatment decisions. Your therapist may want a second opinion, so they can consult with another professional who also has your best interest in mind.

If your therapist is suggesting a referral to a psychiatrist, it might be worth considering just simply as a way to get more information. Many private practice psychiatrists have wait lists to get an initial consultation, so it can be helpful to reach out and try to set up an appointment well in advance of needing it. Remember that you are not obligated to take medications simply because a psychiatrist suggests that course of treatment. By speaking with both your therapist and a psychiatrist, you can learn about additional care services that could be available to you. 
Curious About Scotch Plains Therapy?
Therapy can help you build hope and empower you to live confidently. Our skilled therapists are here to support you and provide help where needed. We offer in-person sessions at our Scotch Plains, NJ counseling office. Or if you prefer, we can meet with you virtually via online therapy in New Jersey. To get started, follow the steps below.
Connect with us at Brave Minds Psychological Services.
Speak with one of our counselors to discuss the right steps for you.
Connect with us and take that first step foreword.
Other Services Offered in Scotch Plains, NJ
At Brave Minds Psychological Services we provide EMDR Therapy, couples counseling, postpartum counseling, and birth trauma therapy. As well as counseling for anxiety, trauma, and food allergy anxiety. Our caring counselors provide mental health services for adults, teens, and children. We offer treatment for teen anxiety, social phobia in teens, child sexual abuse, child anxiety, and more. Prefer building a support network with group therapy? Our therapists also offer several options for group therapy. Our services are offered in person at our Scotch Plains, NJ office and through online therapy in New Jersey.