One of the most wonderful parts of horseback riding is being able to enjoy your time out on the trails and being in nature with your horse. However, riding out on trails can be anxiety-inducing for some riders. It could have been a previous experience that triggered this for you. Or, a simple distrust in your horse's ability to keep you safe while you're on the trails. 
At the beginning of the spring, I was thrilled to be outside on my horse.
He was confident and well-behaved. This made me feel comfortable and willing to be adventurous. Until the day he decided, in a big open field, that he wanted to gallop, buck, and shake his head. Luckily, I stayed on. However, this impacted my confidence in continuing to explore life outside the arena. A month went by and I was encouraged to get back out there with the help of a more experienced horsewoman. It was on this trail ride that I realized I was living in a hypervigilant state and my past experience had a hold on me. 
The dangers of horseback riding are real. Although, oftentimes we are projecting our own fear and anxiety on these situations. If you want to keep your cool, stay confident on your horse, and enjoy your ride, try mindful horseback riding.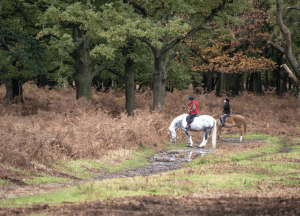 What is Mindful Horseback Riding?
Being in tune with the present moment. Taking in each moment as it comes. It can be incredibly easy to take the slightest trip or flick of the ear as a warning sign that your horse is about to bolt, spook, or do something dangerous. If you interpret it as such, you become anxious and your horse will most definitely pick up on that. What if you could take these incidents as they come? He trips- you move on. He's focused on that tire in the field- you keep it moving. You are there in the moment riding each stride.
Shift Your Focus Away From Horseback Riding Anxiety and Enjoy the Trail Ride 
It can be easy to think of all the little things that could possibly go wrong on your trail ride. Instead of focusing your attention and energy on what could go wrong, think about the tools you can use as a rider. For example, instead of saying "what if a car whips by and he spooks?", think to yourself what tools you have to handle certain situations. Changing the thought process to focus on your capabilities can decrease your anxiety before a ride. Going out on the trail knowing you're prepared can help boost your confidence.
Handling the Horseback Riding Anxiety on the Trail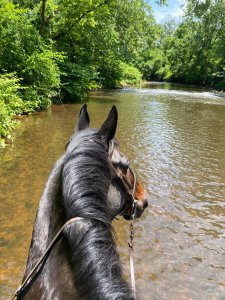 Congrats, you've made it out of the arena! You're prepared with your tools and experience. Now it's really time to be present with your horse and enjoy the ride. As you know, your horse will feel your anxiety so it's important that you keep that in check. So how do you keep yourself grounded and at ease while you're on the trail? If you find yourself truly hypervigilant and anxious on your rides, try this grounding exercise: name things you are seeing on your ride. Say these things out loud. Do this for a few minutes until you feel calmer. 
As long as you feel safe, continuing to go trail rides may help you and your anxiety. Especially if these trail rides help conquer your fears.  However, if you're feeling like this is putting you in dangerous situations, consult with your trainer. Remember, you've got this! 
Begin Counseling for Horseback Riding Anxiety in Scotch Plains, NJ
Learning to manage your anxiety takes time, practice, and commitment. A caring therapist can support you in overcoming your anxiety so you can ride the trail with confidence. Our Scotch Plains, NJ-based therapy practice would love to help you grow as an equestrian. To start your therapy journey, follow these simple steps:
Meet with a member of our team of caring therapists.
Start effectively dealing with conflict!
Other Services Offered at Brave Minds Psychological Services
Anxiety counseling is not the only service we offer at our Scotch Plains, NJ-based therapy practice. Other mental health services offered include online therapy, trauma therapy, anxiety treatment for children, child sexual abuse therapy, therapy for teens, anxiety treatment for teens, teen social phobia therapy, adult anxiety counseling, couples counseling, counseling for parents, postpartum counseling, birth trauma therapy, sexual assault counseling for adults, and food allergy therapy.
Interested in Equestrian Mental Health?
Contact us for a free video consultation.