Advice From A Teen Counselor in Scotch Plains, NJ On How to Help Your Teen If You Suspect They May be in an Abusive Relationship
Dating abuse is about power and control. It refers to behavior one partner uses to gain and keep their power and control over the other. While physical violence may be involved, it also involves emotional/verbal, digital, and sexual behavior. Dating abuse can occur at any point throughout life, but research suggests that teenagers are experiencing these behaviors at an increasingly alarming rate. In part one of this series, you learned about what dating violence is and the signs to look out for. The next step is using that information and aligning yourself with your teen to get them the help they need. 
Top Tools & Advice From A Teen Counselor Scotch Plains, NJ
Broaching this topic is extremely delicate. Even so, learning the red flags and behavioral changes can allow you to be better equipped to talk to your teen about this. As they say, knowledge is power. And after being the subject of abuse, your teen may feel powerless. Here are the tools to help:
Understanding, Compassion, and Empathy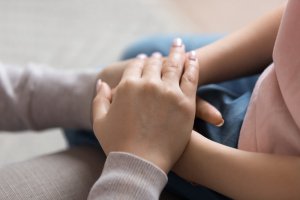 By meeting your teen where they are, they can start to take some control and power back. Instincts may tell you to get your child out of the relationship, ASAP. Of course, you want to jump in immediately and protect them! However, abusive relationships are so complex, that simply leaving might not be as easy as one would think. Knowing that can help you to be understanding if they meet your concerns with pushback, minimizing, or denial. 
Empowerment and Choice
That being said, it is important to empower your teen to make decisions for themselves. Trying to make the decision for them can isolate them further, and only add on to the sense of powerlessness that they may already be experiencing. As hard as it is, remember that it is their choice to open up to you. If your child does not want to talk about it, don't freak out. The more patience and understanding you show them, the more likely they are to open up. Forcing a conversation can inadvertently shut them down. Understand that this isn't a one time conversation.  This is an ongoing discussion, education and empowerment to not only navigate the current situation but also future situations.  They need to know you are always on their side and believe that they can make the hard but healthy decisions.
Another avenue to consider is providing your teen with resources. If they are not ready or willing to talk with you about their relationship, show them that there are confidential advocates out there who are trained to talk to your teen about unhealthy relationships. These confidential advocates are available 24/7 via chat, text, or call to answer any questions and help you and/or your teen get the help they need. See below for a list of websites and resources to share with your teen. Remember, an abusive relationship is centered around power and control. Empowering them to help themselves, and make their own decisions is crucial in restoring their sense of self-efficacy. 
Listen, be supportive and believe them
When they decide to open up, show them you support them by listening and believing what they are telling you. It's natural to feel frustrated, scared or even be filled with disbelief when your child is disclosing their experiences to you. In order to get your teen to feel comfortable seeking support and help from you, try to avoid accusatory language. Disclosing abuse takes incredible strength and bravery, and it's okay to tell your teen that. If you meet their disclosures with skepticism, you can unintentionally push them back to their abuser.
Avoid ultimatums and speaking badly about the partner
Upon learning about the abuse, a natural response would be to want to prevent your teen from seeing this partner. However, providing your teen with an ultimatum or punishing them as a means to force a separation can have the opposite effect you are looking for. As hard as this may seem, avoid speaking badly about the abusive partner. Your teen may still have feelings for their abuser, despite the harm they are causing them. And speaking poorly about the person can cause your child to shut down the conversation. To prevent this, try focusing on the behavior, instead of the person behind the behavior or the way you feel about the person in question. Your teen can and will make the decision to leave when they're ready. 
Educate them on healthy relationships and appropriate boundaries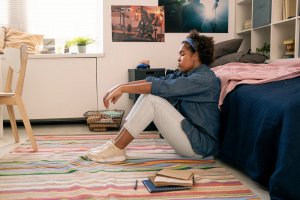 The importance of respect cannot be emphasized enough. Talking to your teenager about what respect looks like to them and the values or expectations they have in relationships encourages thoughtful conversation and debate. Share your views about what these things mean to you. Sharing your clear perspective on disrespect and abusive behavior can help model for your child. Life is full of teachable moments that you can capitalize on. Point out healthy and unhealthy relationship behaviors that you may observe in pop culture/media, such as on TV or in movies, or through experiences of family and friends. 
Teaching your child about and modeling boundaries and consent is a great talking point for setting the expectation of healthy relationships. You can ask them to come up with examples of someone crossing a personal boundary. For example, can they think of a time when playful teasing stopped being playful and started making them feel uncomfortable or like they were being made fun of? Have them brainstorm ways that they can communicate how that makes them feel. Explain that we all have the right to communicate how we want and expect to be treated by others, including our dating partners. This also includes communicating when our boundaries are being violated. 
Mutually respectful relationships make us feel good- we feel safe, supported, trusted/trusting, and happy. These relationships allow for communication, equality, and individuality. Emphasize trusting gut instincts. By paying attention to how situations make us feel, we are more likely to be able to differentiate between good and bad, healthy and unhealthy. 
Normalizing
With dating abuse, shame can influence your teen into thinking that this is an issue that is unique to them. Not to mention that developmentally, teens are in a period of self-centered thinking that also lends itself to this perspective. Assuring your teen that this is unfortunately a very common experience can help them understand that they do not need to suffer alone. There is strength in numbers. Helping your teen recognize that this happens to so many others, can help them realize that they are not alone and that there is hope. 
Avoid any blame 
Remember that this is never their fault. The abuse reflects more on their partner than it ever does on your child. As a result of being abused, your teen might try to justify their abusive partner's behavior by making excuses for them for why they did this. "He didn't mean to hit me, he was just upset that I posted that picture of us to instagram after he told me not to". This is a trauma response. From experiencing trauma, our brains try to rationalize and explain behavior that can be inherently impossible to understand. Chances are, your teen has also been conditioned by the abuse to take the blame. But this is not their fault. And it is crucial to keep reminding your teen that this is not, never was, and never will be their fault. 
Prioritize safety
Above all, safety should be your number one priority. Keeping your teen safe is imperative. If your teen has disclosed any of the aforementioned behaviors to you, understand that unhealthy or abusive relationships can and usually do get worse. If they are physically injured, seek medical attention.  Help is out there, see below for resources for both you and your teen. You may also want to connect with a mental health provider to help your teen navigate the confusing feelings that may emerge as a result of their relationship. 
You can help your teen move beyond dating violence.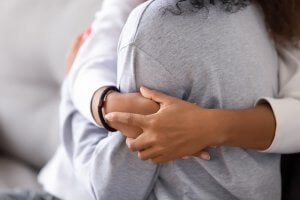 The decision to leave an abusive relationship is often the riskiest period of time for survivors of dating abuse. Because of this, it is a good idea to create a safety plan with your child. A safety plan is an individualized and practical plan for a survivor while in the relationship, planning to leave, or after they have left to keep them safe. It is tailored to the individual with specific information about their life to enhance safety at home, school, work, or other places they may frequent. 
For more information on safety planning, please visit the resources listed below. The National Domestic Violence Hotline has a 24/7 contact line with advocates who can help you create a safety plan as well as a wallet-sized emergency contact card that is printable and easy to reference. 
Teen dating abuse can have profound impacts on teenagers. The longer they are in it, the worse it can become. Getting your teen the help they need might be uncomfortable and challenging, but the other alternative is so much worse. Another consideration is seeking support for yourself and other members of your family through this difficult time. Your teen is not the only one suffering, but it is important not to project your thoughts and feelings onto your child, when they may already be struggling to navigate their own. Support is out there for you all. No one needs to suffer alone. 
Resources I Suggest As A Teen Counselor in Scotch Plains, NJ
For you and your teen: 
11 Facts About Teen Dating Violence | DoSomething.org
Hotlines: 
Safety Plan:
Create a Safety Plan | The National Domestic Violence Hotline
Contact us for a free video consultation with a Teen Counselor.
Ready to Get Connected With A Teen Counselor in Scotch Plains or Branchburg, NJ?
Do you need help supporting your teenager who was or is in an abusive relationship? A teen counselor can provide parenting advice for you and emotional support for them. Our Scotch Plains, NJ-based therapy practice is here to support you as you navigate helping your teen through this time. We provide counseling for teens to help them process their experiences and move beyond dating violence. Get support by following these steps.
Contact us to talk with a teen counselor.
Make your first counseling appointment for your teen at Brave Minds Psychological Services.
Get support for you and your teen.
Other Mental Health Services We Offer in Scotch Plains, NJ and Branchburg, NJ
Counseling for teens isn't the only service that we offer at Brave Minds Psychological Services. We provide individual trauma therapy, food allergy therapy, and couples counseling. As well as, postpartum counseling and birth trauma therapy. Our services for children and adolescents include teen anxiety treatment, social phobia therapy for teens, child sexual abuse therapy, child anxiety treatment, and more. Our services are offered in person at our Scotch Plains, NJ office and through online therapy in New Jersey