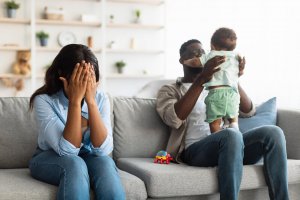 Sexless nights are no stranger to new moms. Between the healing and the sleepless nights, it is typical for sex to take a back seat in your relationship with a new baby. After a doctor's approval, many individuals are able to return to a fulfilling sex life 6 weeks post-baby, but this isn't the case for all. There can be many factors that can impact your sexuality after baby such as life adjustments and body changes. Even juggling new tasks with your partner to take care of your baby can impact your sex drive. 
Birth Trauma Can Impact Your Sexuality
However, the experience of having a birth that did not go as expected can have a big impact on your sexuality! This experience is called birth trauma. It often includes the experience of the birthing person fearing for their life or their child's. Individuals who experienced birth trauma may have a longer or more challenging healing process. They may have more physical changes to their body, and emotional factors to overcome. They may experience intrusive thoughts about their birth, or their child's safety.  As a birth trauma survivor and postpartum depression therapist, I am here to tell you that this does not have to last forever! Here are my tips for reclaiming your sexuality after birth trauma.
Identify Your Birth Trauma Triggers
If you are going to commit to a journey of sexual empowerment and healing, the first step is identifying exactly what is going on. To help with this process, try closing your eyes and imagining a healing light going from your head to your toes. What are the parts of your body that stuck out to you? What felt uncomfortable, or unfamiliar? For many birth trauma survivors body parts such as their genitals, breasts, and stomach can be triggering.  This can make engaging in sexual acts more challenging as you may constantly feel triggered by your partner's touch. After identifying your triggering parts, write them down. Perhaps no parts of your body are triggering. Were there any thoughts that kept popping into your mind as you focused on yourself? Write those down too!
Talk About It
After identifying your triggering parts or triggering thoughts, share them with your partner. Offer them the opportunity to share what their experience of the birth was, and how it may be impacting them as well. Research shows that the postpartum experience impacts birthing partners too! In this conversation, help your partner to understand the impact that your birth trauma has had on you, your body, and your mind. Share about triggering parts of your body. Parts that they should avoid touching, and parts that might need extra care or a tender touch. Use this opportunity to further your sexual exploration with your partner. Share your sexual goals, fantasies, and kinks. Have you always wanted to try kama sutra, or do a boudoir shoot for your partner? Now is the time to share, but keep in mind you are not going to reach all of your goals at once. To truly connect to your sexuality again it takes time, try not to put any time constraints on your goals. Think of this as a conversation about your lifetime of sexual health!
Mindful Masturbation: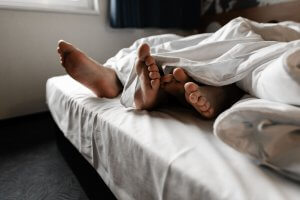 To reconnect with your sexuality, you must reconnect with yourself and your own body. Mindful Masturbation is the practice of engaging in masturbation while being fully present in the moment, engaging your senses, and connecting to your body. To begin, you can try to engage in this practice without the pressure of trying to achieve an orgasm. Close your eyes, and touch your body. Give yourself permission to touch the places that feel good, notice the places that feel more challenging without judgment. As you continue to build your mindful masturbation skills you can even visualize yourself living out your wildest sexual fantasies!
Mindfulness During Sex After Birth Trauma:
Now, invite your partner in! Teach them about mindful masturbation and the importance of feeling connected to your body in this process. Invite your partner to connect to your body. As you work towards reaching your sexual goals together, remember to breathe, communicate, and take your time! After birth trauma, your body may feel foreign to you. After you have learned your new body, share it with your partner and teach them what feels comfortable for you. During this process, it can also be helpful to not place all of your energy and thought into penetration and orgasm. Focus on foreplay, gentle touch, massage, and use lots of lubrication if you like. Thus allowing yourself to freely move into intercourse if and when you are ready!
Your relationship with your sexuality is an ongoing and ever-changing process. After birth trauma, many new moms in Westfield, NJ report losing their sense of identity. Leaning into your sexuality can help to connect you to important parts of your identity that you may have lost touch with! A trained postpartum depression and trauma therapist can also support you in furthering your healing journey after trauma and feel empowered moving forward. If you are a new mom feeling disconnected from your body and sexuality after birth trauma try these tips: techniques such as CBT and EMDR may also be helpful for birth trauma therapy. Sex after baby can be hard, but healing is possible, and can even help take your sex life to new heights! Enjoy the process of trying and know that our therapy practice is here for you if you need support and guidance! 
Contact us for a free video consultation.
Ready To Start Birth Trauma Therapy in Scotch Plains, NJ & Branchburg, NJ?
We understand how hard it can be when the birth of your child did not go as planned. That is why we offer birth trauma therapy to help you start to recover and regain your sense of comfort. Our trauma therapists in Scotch Plains, NJ can help you not only regain your sexuality but also reconnect with your partner. In order to get started at Brave Minds Psychological Services follow these steps.
Contact us to talk with a postpartum trauma therapist.
Begin the process of healing.
Other Mental Health Services We Offer in New Jersey
At our Scotch Plains, NJ-based therapy practice we offer many types of mental health services to support you. For individuals, we offer EMDR trauma therapy, food allergy therapy, and postpartum counseling. While for children and adolescents we provide teen anxiety treatment, social phobia therapy for teens, child sexual abuse therapy, and child anxiety treatment. Additionally, we offer group therapy, marriage counseling, couples therapy, and more. Our caring therapists provide services both in person and through online therapy in New Jersey.