If you're reading this, it might be because you're hesitant about starting your therapy journey. You may have read about the benefits of psychotherapy. A friend may have given a recommendation. Regardless of what brought you here, taking the first step can be daunting. In addition, there are many real and perceived obstacles to taking that first step that can hold many people back. 
Reasons People Might Put Off Therapy
This is where a therapy intern can come in. Therapy interns provide psychotherapy under the supervision of a fully licensed therapist or counselor as they work towards their graduate degree. The following are common concerns with therapy that a therapy intern may be able to help assuage. 
Therapy is Too Expensive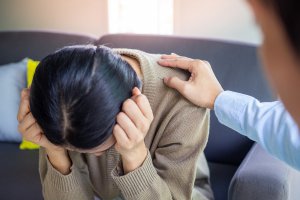 Financial stress can unfortunately be a big barrier to receiving mental health services, especially long-term. Interns offer psychotherapy services for significantly lower fees than fully licensed therapists. While therapy can be an important investment in your wellness, it should also not be a source of financial distress nor a threat to your financial security. If you anticipate that financial concerns will be a barrier to mental health treatment, you may want to consider working with a therapy intern.  
I Don't Want to Wait to See a Therapist 
Delaying mental health treatment can be distressing and uncomfortable for some individuals and families. More experienced therapists can be in higher demand and can have wait times of several months to get an appointment. Interns tend to have more availability than fully licensed therapists and may be able to see you right away. 
Therapy Won't Work With My Schedule
Therapy interns may also be able to see you during high-demand times such as after school hours and on weekends. If your schedule changes from week to week due to work, school, or extracurriculars, an intern may be a good fit for you. They may be able to schedule with you on a week to week basis to help you fit therapy into your busy schedule. 
What if My Therapist Misses the Mark?
Even the most experienced and skilled therapists can and will get it wrong sometimes. Informing your therapist when this happens can be highly productive to improving your therapy experience. However, telling your therapist you disagree with them or that something is not working for you can be difficult for some individuals.
A major part of a therapy internship involves receiving feedback from supervisors to help the intern develop their approach. This means that interns can be exceptionally open to feedback from you about the therapy experience.  In providing constructive criticism about your therapy experience, you are also helping the intern grow and learn how to best support you. If providing corrective feedback to an experienced therapist feels intimidating, working with a therapy intern may be a good fit for you. 
Other Reasons a Therapy Intern Might Be a Good Fit
Interns Frequently Have Fewer Clients
Since interns have smaller caseloads than fully licensed therapists, they have more time and brain space to dedicate to each of their clients. Interns devote a large amount of time and energy to your counseling.  Not only is a therapist intern focused on your goals in session but also outside of session time. Interns spend time researching and studying how to best understand and address the struggles their clients face.  This is an expectation of their program, the internship site, and the intern themself. As one of their first clients, an intern's approach will be developed around your needs and tailored specifically to you.
Interns are Closely Supervised
Brave Minds interns are highly supervised.  Each intern has a fully licensed therapist dedicated to your therapy and their learning and development.  This means that interns spend hours talking about how to best assist you in reaching your goals.  Typically with an intern you get two therapists for the reduced price of one. In addition to their dedicated supervisor, the Brave Minds Internship Team works with interns to provide high quality care including the Clinical Director and Psychologist, Dr. Fawn McNeil-Haber; Licensed Marriage and Family Therapist, Lauren Grossbach; and Licensed Clinical Social Worker, Lisa Weiss.
Interns Get Some of the Most Up-to-Date Training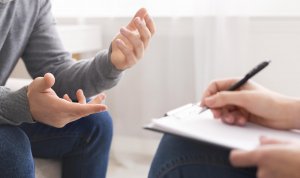 All mental health clinicians are required to stay up-to-date with their clinical training.  However, interns are learning for hours each week. Their job is to soak in the knowledge of the academic environment, including the most up-to-date theories, research, and applied treatment methods.  Interns spend their class time working with professors and other burgeoning therapists to understand how to best choose and utilize interventions that will be effective in a particular situation.
There are many benefits of working with a fully licensed therapist. The wisdom, instincts, and development of skills that come with experience in the field can be invaluable. Therapists who have been practicing for longer periods of time can typically see a wider range of individuals and often develop specialties in which they work particularly well. However, certain circumstances make working with a therapy intern a more comfortable fit for individuals of all ages. In addition, there are some notable benefits to working with a therapy intern that make them a good fit for some individuals.
Many of us put off counseling for weeks, months, or longer due to various barriers, worries, and uncertainties. If any of the reasons discussed above resonated with you, it may be time to consider working with a therapy intern. 
Are You Ready to Start Working With A Scotch Plains Therapy Intern?
Stop putting off counseling and start prioritizing your mental health with the support of a Scotch Plains Therapy Intern. By working with an Intern at Brave Minds Psychological Services you can get counseling that is tailored to your needs, at times that are convenient for you, at a lower cost. In order to get started follow these simple steps:
Reach out to speak with our scheduling team
Start counseling with a Therapy Intern in Scotch Plains, NJ
Feel better as you start your mental health journey
Counseling Services That We Offer in Scotch Plains, NJ
At Brave Minds Psychological Services. For adults, we provide EMDR Therapy, couples counseling, postpartum counseling, and birth trauma therapy. As well as counseling for anxiety, trauma, and food allergy anxiety. Our services extend beyond adults. Our caring counselors provide mental health services for teens and children. This is why we offer treatment for teen anxiety, social phobia in teens, child sexual abuse, child anxiety, and more. Prefer building a support network with group therapy? Our therapists also offer several options for group therapy. Our services are offered in person at our Scotch Plains, NJ office and through online therapy in New Jersey.
Learn more about starting therapy with an intern.
Contact us for a free consultation
(908) 242-3634 or Connect Now