When you call to set up an appointment, the first person you speak with will be a member of our scheduling team! Our scheduling team spends a lot of time getting to know all of our therapists and their specialties, therapy styles, and personalities. When you call, the scheduling team member you speak with will gather information to get to know you and the circumstances bringing you into therapy. We then make our best efforts to set you or your child up with the best-fit therapist for your specific needs, goals, and resources.

Practice Manager
Lisa is a Licensed Clinical Social Worker, therapist, and the Internship Director at Brave Minds. She earned her masters degree in social work from Rutgers University School of Social Work. She has been a part of the Brave Minds team since 2017. While Lisa is passionate about helping her own clients, she also enjoys managing the administrative side of the practice. "Helping potential clients feel heard and getting them connected with the best-fit therapist at the practice is the most rewarding part of working on the scheduling team. It's a great feeling to know our callers are in good hands with the therapist we schedule them with."

MSW Intern & Senior Scheduling Specialist
Linda completed her undergraduate degree in Psychology from Rutgers University.  Linda is currently pursing a masters degree in Social Work at Rutgers and is a MSW Intern therapist. She is passionate about making sure each and every person who calls is met with a sympathetic listener ready to set them up with a therapist who can help them accomplish their specific personal goals.
Linda is passionate about helping clients with a variety of issues including anxiety, stress management, trauma, racial trauma, and chronic illness. She is particularly interested in working with young children and adults.
When not studying, Linda enjoys spending time with her cat, creating abstract paintings, and putting together new recipes.

Brianna Albanese, BS
Senior Scheduling Specialist
Brianna completed her undergraduate degree in Psychological & Brain Sciences from the University of Massachusetts Amherst with high honors. She is currently attending NYU's Master's in Mental Health Counseling program on her way to becoming a Licensed Mental Health Counselor in the state of New York.
Brianna has a goal of working with young children and adolescents in therapy, specifically focusing on anxiety, emotional regulation, attachment styles, and other areas of mental health treatment aligned with healthy childhood development.
Brianna is a native New Yorker who loves practicing self care through outdoor yoga, kickboxing, and baking! She is particularly excited about creating unique designs with her pies, and coming up with new flavors of biscotti to enjoy with Sunday morning coffee.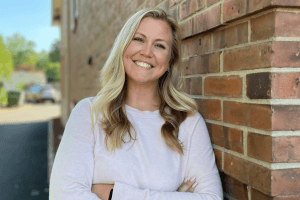 Allyson Hern, BM
Scheduling Specialist
Allyson is currently pursuing a Master's in Clinical Mental Health Counseling from Rider University.  After working as a professional actor in New York City, she made the decision to change careers and is thrilled to now be a part of the Brave Minds team.   
Upon obtaining her license, Allyson hopes to help children, adolescents, and young adults struggling with issues such as anxiety, trauma, and body image concerns.  She is dedicated to providing the best possible quality of care by leading with passion, empathy, and kindness. 
Reach out to discuss your options at Brave Minds.
We are just a call away!