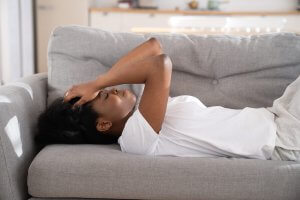 Rape culture is a cycle of fear that perpetuates the subservience of women in the social power structure. In part one, we explored how the threat of violence and rape disproportionately affects females and the LGBTQ+ population. The last blog addressed how parents can combat rape culture by teaching and modeling emotional intelligence, LGBTQ+ allyship, and deconstructing gender stereotypes. Now let's explore how to combat rape culture and raise confident and sexually aware kids by teaching consent, gender representations, and sex-positive education. 
Teach Body Autonomy and Consent
Teach your child the correct names of their body parts.
Make sure they know that their body belongs to them and they control who touches it and how. Reinforce these messages often and encourage your child to be assertive and say 'NO' or 'STOP' when they are uncomfortable and do not want to be hugged, touched, or kissed. Check out I Said No! by K. King.
Model consent for your child.
Routinely ask them for consent before you change their diaper, tickle them, or take off their rain boots. Respect the boundaries that your child sets and teach your extended family and friends to do so as well. If you make asking for and respecting consent a routine and expected behavior, your child will learn that their boundaries matter, their body is their own, and they deserve respect. They will also be more likely to recognize when their autonomy and rights are being violated and respect the boundaries of others. Check out Consent (for kids!) by R. Brian
Make it clear that nobody ever deserves to have their autonomy violated or experience violence.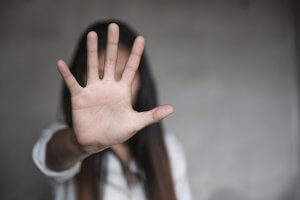 Make sure your child knows it is never their fault if they are harmed by someone else. Encourage them to talk to you if they ever feel like someone has touched their body in a way that makes them feel uncomfortable or is inappropriate.  A Secret Safe to Tell by N. Hunter, or Some Secrets Should Never be Kept by J. Sanders are great books that help children recognize the grooming process, safe vs. unsafe secrets, and teach how to talk to an adult about it. 
Encourage Discussion About Gender Representations
Routinely engage in thoughtful discussions about how gender is represented in the books and media that your child consumes. Encourage critical thinking. Why is the female character portrayed this way? How is the male character treating her? What does this say about how men should treat women? Who created this media and what is their motivation? How does the messaging in the media affect viewers' understanding of gender roles?
Talk to your children about pornography
The average age of first exposure to internet pornography is 11 years old. Make sure they understand that pornography is a performance by paid actors. It is not real life or instructive. Discuss gender representations in pornography with your child. Talk to your children about how traditional pornography employs sexism and misogyny in the scenarios. Teach them about how sex between partners is based on safety, consent, respect, and mutual pleasure. 
Teach Sex Education
Set the expectation for honest, supportive, and ongoing discussions about sex, bodies, relationships, intimacy, boundaries, and communication. You will not 'rush' your child by bringing up these topics with them. It is the parents' responsibility to bring these issues to the child's attention

before

they are sexually active. The more education your child has about sex at a

young

age, the more likely they are to recognize sexual advances from inappropriate adults or individuals. Do not wait until the media or someone else has taught your child the wrong lessons about sex for you. Check out

https://sexpositivefamilies.com/

for resources!




Teach your child that sex is exciting, vulnerable, and meaningful. It is a form of connection in which they deserve to feel respected, valued, and cared for. They have a responsibility to make sure their partner feels the same. Make sure your child knows that sex should feel good and there is no shame in experiencing pleasure. Experiencing arousal and seeking sex does not make a girl a 'slut', nor does it make a boy a 'player'.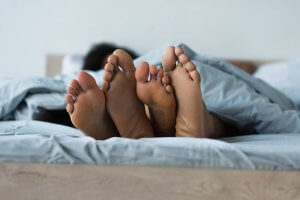 Rape culture is deeply embedded in our society and affects every single individual. However, parents are in a unique position to combat rape culture by raising children who have a strong sense of body autonomy, gender equality, and sexual empowerment. These crucial and frank conversations have the power to increase communication about difficult topics between you and your child.  The truth is your child won't see these as difficult topics (the way we might).  They will just see you as a person they can talk to about the important things in life.
Learn More About Sexual Violence Prevention in Scotch Plains, NJ
Changing our society for the better starts with educating the next generation. Our caring therapists would be honored to support you in developing the tools to help fight rape culture. You can expect a safe, non-judgmental space when you visit our Scotch Plains, NJ-based practice. Or, learn about our online therapy services for the residents of New Jersey. To start your therapy journey, please follow these simple steps:
Meet with a caring therapist 
Help put an end to rape culture
Other Services Offered at Brave Minds Psychological Services
We offer a variety of mental health services at our Scotch Plains, NJ-based practice. These services include counseling for teens, trauma therapy, anxiety treatment for children, anxiety treatment for teens, child sexual abuse therapy, and sexual assault counseling for adults. In addition, we also offer teen social phobia therapy, adult anxiety counseling, couples counseling, counseling for parents, postpartum counseling, birth trauma therapy, and food allergy therapy.