Does your stomach drop at the idea of going to couples therapy with your partner? Perhaps you're interested in going to couples therapy but your partner is resistant. This could be because couples therapy can be perceived as a major sign of trouble in your relationship, an arduous effort to schedule, or overall intimidating. 
What is couples therapy really about? 
There are tons of myths about couples therapy portrayed in the media, leaving the average person in the dark about what couples therapy is really like. Before you and your partner take the dive into couples therapy together, let's clarify some of the myths.
MYTH: Couples therapy is for married partners who have been together for a long time.
FACT: Couples therapy can be beneficial for any relationship or individual, regardless of marital status, sexual orientation, gender, or relationship history. Despite some of the language used to describe couples therapy, including "marriage counseling", couples therapy should be an inclusive environment. This means that it doesn't matter whether or not you're married, how long you've been together, or whether your relationship is monogamous or polyamorous. All relationships are welcomed.
MYTH: Couples therapy is only for couples who are about to break up or get divorced.
FACT: Attending therapy with your partner can be beneficial at any point in your relationship. If you're struggling with repetitive issues, ongoing arguments, and/or emotional disconnect, couples therapy can help you find productive solutions to breaking those cycles. In addition, couples therapy can be preventative. This means you can learn the tool for conflict resolution in order to better manage future disagreements. As with our physical health, relationship health can be both preventative and proactive. This can contribute to years of enhanced enjoyment in your relationship.
MYTH: Couples therapy sessions are only focused on what's going wrong in the relationship.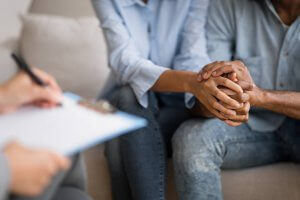 FACT: Couples therapy should involve discussions about what is going well in your relationship–such as co-parenting or intimacy. Knowing your strengths as a couple, in addition to your areas of growth, has the power to change your perspective. More than likely, your couples therapist will help you define those strengths and use them to your advantage. Couples therapy also involves exploration about what needs to be improved in your relationship. This can mean experiencing a multitude of emotions. However, your couples therapist is there to help you work through the range of emotions. 
MYTH: The couples therapist is going to tell me/my partner that I'm wrong.
FACT: Your couples therapist is not a judge, but rather a guide to improving your relationship. Ideally, your couples therapist is unbiased and doesn't "take sides" during your arguments. The couples therapist is there to stay neutral, sort through various conflicts with you, and guide you through steps for healthy communication and conflict resolution.
MYTH: We're going to end up divorced anyway so couples therapy is a waste of time.
FACT: If you're contemplating the future of your relationship, couples therapy can be the perfect place to start. Whether you're encountering your first, millionth, or "last straw" issue in the relationship, the process of couples therapy can help you determine the viability of your future together. Couples therapists are trained to help couples discuss their compatibility and connection, or lack thereof. In addition, counseling during and after separation or divorce can help to address conflict and ensure the mental health of adults and children involved.
MYTH: It's difficult to find a couples counselor and get started.
FACT: There are many therapists qualified to provide couples counseling. With the addition of telehealth, couples therapy has never been more accessible than it is right now. Remember that the first step is just a phone call or email. Take the process one step at a time, and don't be afraid to ask questions! We're here to help.
Interested in Online Couples Therapy?
Contact us for a free video consultation.
(908) 242-3634 or Connect Now.
Begin Couples Therapy in Scotch Plains or Branchburg, NJ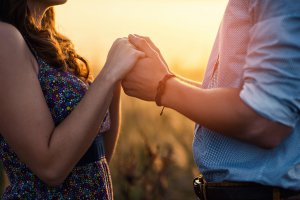 Couples often have many questions and concerns when starting couples therapy. Our caring therapists would be happy to help inform you about the many ways your relationship may benefit from doing this important work. We offer support from our Scotch Plains, NJ-based practice. To start your therapy journey, please follow these simple steps:
Meet with a caring therapist 
Start improving your relationship
Other Services Offered at Brave Minds Psychological Services
Couples Therapy isn't the other service provided at our Scotch Plains, NJ-based therapy practice. Other services offered include parenting counseling, counseling for teens, online therapy, trauma therapy, anxiety treatment for children, child sexual abuse therapy, anxiety treatment for teens. We also offer teen social phobia therapy, adult anxiety counseling, counseling for parents, postpartum counseling, birth trauma therapy, sexual assault counseling for adults, and food allergy therapy.