Back to school in the Fall of 2020 is just plain weird. There are new norms and rules to follow, and the game could change drastically at any time. Last week, we talked about how to help kids and teens prepare in very practical, tangible ways for these changes. This week, let's focus on all of the ways we can help our children try to wrap their minds around this new normal.
Psychological Preparation for Handling the Anxiety of Going Back to School in 2020 
A major part of preparation this academic year is mindset.
Mindset is all about the beliefs or attitudes we have about something. These beliefs shape the way we think about our world on a daily basis. Some times we have mindsets that are negative ("I'll never understand this." Or, " I am not good at math."). But, a mindset can also be positive ("I am kind to my friends." and, "I can do hard things."). Mindset is important because we can actually impact our success rate by how strongly we believe we will succeed or fail. That's why it's important to help kids cultivate a growth mindset early on. Right now, as we go through a historic global trauma, this is even more pressing.
Here are 3 ways to help your child mentally prepare for the 2020 school year:
Help your child grieve what is lost. And, also look at what they have so they can make the most of it.
Tolerate your child's emotions without minimizing them or catastrophizing.
Help your child identify and share their worries so you can address them as best you can.
If you can't address their concerns, that's okay! Instead, you can empathize with them. Sit with them in the uncertainty.  Don't assume what your child's concerns are.  Ask them. Then, really listen without jumping right into problem-solving mode.
This school year, some kids will be concerned about:
Friends they haven't really seen all summer
If they still fit in
Health anxiety and worry about getting sick
Academics and standardized testing
A tough teacher or pod facilitator
Wearing a mask all-day
Not understanding new concepts via online learning
Losing club, sport, or activity time
The anxiety and differentness of this school year can loom large. Remind them of things larger than this school year.  This could be their faith. Or, their connections with their friends and family. Find large accomplishments they have had in their life. Of course, continue to make the most of the increased family time.
Provide your child control where you can.  Anxiety can be fueled by a lack of control.
Not letting your opinions about what should be happening get in the way of your child adjusting to what is happening.  You may not agree with the school's plan.  But, you can decide if your child will follow it. If so, help them do so with confidence, not with questioning if this is truly right.  Your child is paying attention closely to your opinion. And, whether your child agrees with you or not, your mindset will encourage or undermine their success.
Separation Anxiety During the 2020 School Year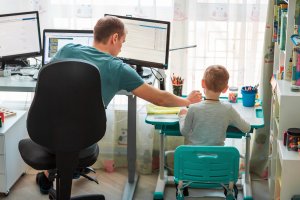 After having so much together time, some children may experience separation anxiety.  This is anxiety specifically related to separating from a caregiver.  It frequently goes with fears that the caregiver or the child will experience harm upon separation. Consider taking a photo of yourself (looking normal/silly/fun) when you are away and showing them later. Or, if you can, do a video call during a mutual break and give each other a tour of your new work or school spaces. If you know your student is high-anxiety, consider volunteering to help out early on.
Expect that you will probably be nervous about the beginning of school also.  Manage your own anxiety so you can share your strength with your child because they most likely will also feel some nervousness.
Anxiety and anticipation are completely normal for the new school year.  If your child is starting elementary school, middle school, or high school for the first time or starting a new school they will have lots of feelings and potential worries about these transitions.  Helping them to articulate what they imagine this year will be like academically and socially.
Back to School in 2020: We can do this
Remember that going back to school is already an adjustment even without the extra stress of COVID. Yes, we are in totally uncharted waters here. We don't always know what to expect. But, we will get through this. No matter where you are in New Jersey, we can help. From our Scotch Plains counseling center, we now provide video therapy. Online therapy in New Jersey is effective and convenient. Let's talk about your COVID anxiety and feel more in control and confident about the school year ahead.
Contact us for a free video consultation.
Start Anxiety Treatment. Serving Westfield, Cranford, Scotch Plains and surrounding communities.
Brave Minds Psychological Services in Scotch Plains, NJ helps adults, children and families overcome stress and worry with anxiety treatment. We can also help you with parenting, health anxiety, and more. Let our skilled and caring therapists provide a safe and comfortable therapy experience right here in New Jersey. To begin counseling, there are a few simple steps:
Get your questions answered in a free phone consultation call with one of our compassionate therapists.
Feel more confident about your child's school year, even in this time of COVID.
Other Therapy Services At Brave Minds Psychological Services
At Brave Minds Psychological Services, we offer a variety of services from our licensed therapists in order to get you on the right path to healing and wholeness. Our therapeutic services include therapy for children, anxiety treatment for children, child sexual abuse therapy, therapy for teens, anxiety treatment for teens, teen social phobia therapy, adult anxiety counseling, couples counseling, counseling for parents, postpartum counseling, birth trauma therapy, and sexual assault counseling for adults. We also have a blog where we write about a variety of different mental health subjects. If you're interested in learning more about our services here at Brave Minds Psychological Services or online, please contact our Scotch Plains counseling office!  Proud to serve Fanwood, Westfield, Cranford, New Providence, and surrounding areas.