Online therapy has many unique advantages.  Being in your own environment can create the opportunity for greater comfort.  You have control over how you set up your space and prepare for the session.  In addition, many people express more openness behind their camera.  You too can make the most of the online experience. Here are a few tips to help you get the most out of online therapy in New Jersey.
Have the Technology
It's best to use a laptop or a desktop with a camera. However, your cell phone works well too. Try flipping your phone so it's in landscape mode. Never use your employer's computer because they may have access to your confidentiality information. A secure internet connection is also important.  Don't use your employer's or public WiFi.
Find a Space
At a minimum this space should be a place where you can be alone.  There should be a door that closes completely.  Extra points if the door has a lock so you won't be randomly disturbed by your roommate, partener, or child.  
Create Noisy Privacy
Download a white noise app to your phone or tablet and place it outside your door.  This will make it much more difficult for those outside your space to hear what's happening during your therapy.  Alexa and google home have great options for white noise or nature sounds that can help to drown out your speech.  Just remember to turn the mic off so she's not listening to your conversation.
Wear Earphones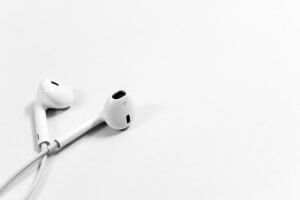 Earbuds help to create better privacy and enhance audio.  Anyone who may be nearby would only be able to hear half the conversation.
Transition into Therapy Ahead of Time
Update your browser. Clear your cache.  Reboot your system.  This will help to ensure a smooth video connection.  Let others in your home know that you will be unavailable and work with them to eliminate interruptions.  Silence your cell phone and set it facedown for the session time.
Next, Consider Your Look
Lighting
Lighting is important because the better your therapist is able to see you, the better she will be at picking up and attuning with your emotions and experience. The light should always be on your face. Never sit in front of a window.  It will make  it difficult to see you clearly.  
Your face
They want to see your face. 
Not your forehead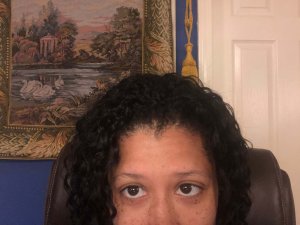 Not up your nose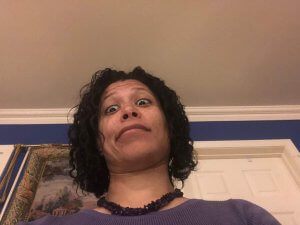 You should be eye level with your camera.  Sometimes that means putting your laptop on a box or two.
Background
Your therapist doesn't care about your messy house.  Or your fabulous wall coverings.  She cares about you.
Clothing
Not optional, including pants.  
Enhance Your Environment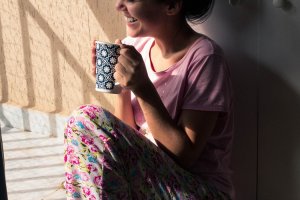 Make the most of your environment. Transition into therapy.  Do you like tea, coffee, or a cool lemonade?  Make yourself a soothing cup of peppermint tea.  Bring your lavender essential oils to inhale.  Wear your favorite fuzzy slippers.   Throw a blanket over your legs. 
Skip the alcohol or mood enhancing substances. They can affect getting the most out of therapy.
Transition Back to Reality
Give yourself a few minutes to transition from online therapy back to life.  Allow whatever you have talked about to clear your mind.  Take a moment of mindfulness.  
See you next week.
Contact us for a free video consultation.