Estimates suggest 1 out of 4 girls and 1 out of 13 boys are sexually abused before the age of 18. Child sexual abuse is a devastating experience for the child and the entire family.  Most sexual abuse is committed by someone close and trusted by the child and family. This makes it one of the most intrusive and overwhelming traumas a family can endure.
It is important to remember that child sexual abuse can occur in any home, regardless of location, socioeconomic status, race, religion, or any other factor. Discussions around body parts, body safety, and inappropriate touches are crucial to have with your child. However, these conversations can be awkward and difficult, both for the parent and the child. One way to help decrease discomfort around the conversation is to use books to guide the conversation with your child. 
Books are a great way to make sure your child gets the information they need while making the conversation easier to have. It is important not only to read the books, but to reflect out loud with your child and have conversations that extend far beyond reading time. 
Our child therapists have assembled the following list of four excellent books on body safety for kids that will help you begin these conversations. The earlier you begin having these conversations, the better. This list includes options for kids from preschool through middle school. 
Four Books to Educate Kids on Body Safety
C is for Consent (3 to 5 years)
by Eleanor Morrison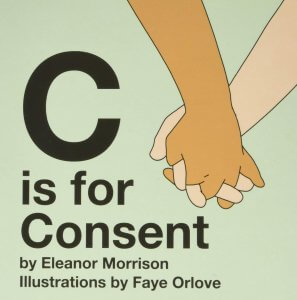 As a parent, it can be hard to have conversations with your child about big topics like body ownership. Sometimes you just don't know where to start. The book C is for Consent helps parents with this conversation by telling the story of a boy who sometimes wants hugs, and other times does not want to sit on his aunt's lap. In the book the author discusses ownership of your own body in a way that is easier for children to understand. Kind and loving alternatives such as a high five or fist bump are shown. The author also gives some thought provoking questions on body safety for kids that parents can use to continue this conversation at home!
My Body is Mine, My Feelings Are Mine (ages 4-10)
by Susan Hoke, LCSW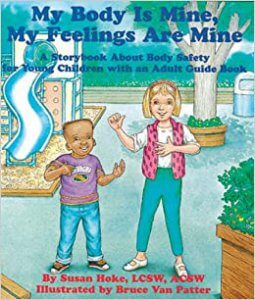 This book consists of two parts: a story for children and a guidebook for parents and caregivers. Children are walked through a variety of self-reflective activities to work on identifying and expressing their positive and negative emotions. The book helps children learn the correct names for their private parts and what they should do if an adult or older child crosses any boundaries. The guidebook for parents at the end includes facts on child sexual abuse and ways parents can identify if their child has been abused. This a must-read for children and parents alike!
Consent (For Kids!) (ages 6-10): Boundaries, Respect, and Being in Charge of You
by Rachel Brian
This is an adorable book that lays out consent and body safety for kids and tweens in an entertaining yet direct way.  It's comic book style keeps kids engaged and paying attention to an important topic.  From bodily autonomy, to tricks and bribes, to reflecting on your OWN listening for consent skills, it covers a lot of ground.  This is a great quick read that can facilitate longer discussions.
I Said No! A kid-to-kid guide on keeping private parts private (Ages 6 and up)
by Zack and Kimberly King

This book is a great way to go through many different topics around body safety for kids that are important to discuss. This book outlines appropriate behaviors and who they are appropriate with. It also discusses what to do if you are put in an uncomfortable situation and who you can talk to. The authors also guide kids through coping with guilty feelings if they have been put in an uncomfortable situation. The authors recommend taking this book piece by piece with your kids. Read a few pages at a time and provide space to discuss and ask questions. It is important to give your child some time to process this new information and any feelings they may have about it. Once you and your child feel ready, pick the book back up and keep reading.
Interested in Trauma Therapy for Children?
Contact us for a free video consultation.
Begin Child Sexual Abuse Therapy in New Jersey With a Skilled Trauma Therapist
Brave Minds Psychological Services in Scotch Plains and Branchburg, NJ helps children and families experiencing the devastating effects of child sexual abuse. We work very closely with parents and youth.  We walk you through that initial state of crisis and into the journey of healing. This includes not only navigating your child's emotional reactions but also your family's responses, the legal system, DCPP, and more. We process your experience about what has happened in order for you to fully support and assist your child's recovery.  You will have specific strategies for you to do with your child to facilitate healing. Let our skilled and caring family therapists provide a safe and comfortable therapy experience right here in New Jersey. To begin counseling for your child, there are a few simple steps:
Get your questions answered in a free phone consultation call with one of our

compassionate therapists

.

Feel more confident about your child's mental health and success.