As a food allergy parent, one of your biggest fears may be an anaphylactic reaction. Rightly so,  these multi-system, life-threatening reactions to an allergen create a chain reaction in the body. The immune system releases a flood of chemicals that can compromise the functioning of bodily organs.  As a food allergy parent myself, this sounds terrifying.
How often do food allergies cause an anaphylactic reaction?
Before we get all worked up, let's step back and look at the statistics.  Food allergy reactions result in approximately 200,000 emergency visits per year in the US (been there, done that).¹  Less than half of these were anaphylactic reactions. According to one study, fatality rates for those presenting at the hospital with anaphylaxis is about 0.3%.²  Other studies suggest estimates of 20 deaths per year (20 too many) with 85% of them related to a lack of emergency response. Despite our concerns, studies show that food allergy deaths are an extremely rare outcome.
Knowledge is power, especially with food allergies and anxiety.
This knowledge gives us room to take a breath as we consider the anxiety generated by food allergy reactions and how to minimize traumatic reactions in our children.  Since about 40% of children with food allergies experience an anaphylactic reaction,³  this is something we need to prepare ourselves and our children for.
How to Deal With Food Allergies, Anxiety and Trauma
1. Carry your Epinephrine
You should have a twin pack with your child at all times.  This is the first line of defense in an anaphylactic reaction.
2. Have a plan
Know the signs and symptoms and how to respond.  FARE has a wonderful

food action plan

. (Ours is on the inside door of a kitchen cabinet and in the epinephrine case)

Teach your child about their food allergies, the signs and symptoms, and what to do if they experience any of them.  Your child should know who to talk to. Keep a balanced matter-of-fact and this-is-important demeanor. There are many great books to help children understand food allergy reactions and related medicines.
3. Practice with your Epinephrine trainer
When an emergency hits, our brain goes into a stress reaction that makes thinking very difficult.  We are built to react under stress, not to make careful considerations. This means you need to know what to do and how to do it.  Your plan should be well practiced so you know what to do and feel comfortable doing it. This includes how to restrain your child so they can be still during the injection.
Let your kids practice, too.  Epinephrine trainers can be fun however, make sure they understand that they CANNOT play with the real thing.  In fact, it should always be out of reach of little ones. Teens and young adults should practice with expired Epinephrine in an orange or grapefruit so they know how it feels to give one.
4. Have nerves of STEEL
That's right!  In the midst of a reaction, you need to be cool, calm, and in control.  Your child is watching you. If you have other children, they are watching you too.  They are reading how serious the situation is. Act fast and without panic. Remember, fatalities are extremely rare.  Your job is to follow your allergist's plan without alarming your child or teen. Are you going in an ambulance? Well, muster up some excitement for your child.  This is going to be a cool ride.  Plus, you want to keep them calm and distracted.
5. Provide positive reinforcement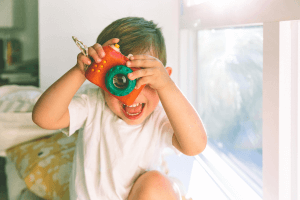 Your kids took the epinephrine like a champ!!  Any child who takes an epinephrine shot took it like a champ and should be celebrated like one.  Tell your child how brave and amazing they were and how proud you are (even the teens and young adults).  Some kids will point out how they screamed and cried. I like to say: "Of course you did. We all cry and scream when we are in pain!  That doesn't mean you weren't a real champion."
6. Talk about what happened with your child  
Retelling the story with your child can provide them with an opportunity to process what happened. Emphasize all the things they did right. Perhaps they told you their symptoms. They took the Epinephrine. Then, they let the doctors watch them and took the medicine they were given. They took care of their body!! Circle back around and discuss ways you can prevent future reactions, making sure to let your child come up with some of the ideas.  Try not to become overprotective, but rather put appropriate safeguards into place.
7. Be ready for your own emotional reaction in the days after an anaphylactic reaction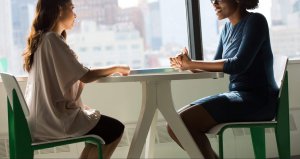 You are likely to feel anxious, jittery, guilty, and overwhelmed to name a few emotions.  Talk to others who can support you through these difficult emotions and help you feel more in control again. Reflect on what you learned from the situation and any changes that should be put in place. Soldier on brave food allergy parent!  You are a champion, too!
Check out more tips in 5 Ways to Reduce your Trauma After Your Child Has an Anaphylactic Reaction.
_____________________________________
Can Food Allergies Cause Panic Attacks?
The thought of your child having an anaphylactic reaction is scary. However, it's important as a food allergy parent to be prepared. Having a plan, practicing, and having open conversations with your child are all great ways to support you and your child's ability to remain calm and take action. When you feel ready and confident in your ability to handle these situations, your child will take notice and this can improve their perception of the situation as well.
Learn more about our Food Allergy Services

Contact us for a free phone consultation with one of our therapists.
Thinking about food allergy anxiety therapy in New Jersey?
Brave Minds Psychological Services helps children, teens, and families overcome severe anxiety, stress, and painful experiences.  We specialize in developing brave minded youth that can move forward despite fears and significant challenges. Let our skilled and caring therapists provide a safe and comfortable online therapy experience right here in New Jersey. To begin counseling, there are a few simple steps:
Get your questions answered in a free phone consultation call with one of our compassionate therapists.
Start your journey to get through food allergies and anxiety today!
Other Therapy Services At Brave Minds Psychological Services
At Brave Minds Psychological Services, we offer a variety of services from our licensed therapists in order to get you on the right path to healing. Our therapeutic services include therapy for children, anxiety treatment for children, child sexual abuse therapy, therapy for teens, anxiety treatment for teens, teen social phobia therapy, adult anxiety counseling, couples counseling, counseling for parents, postpartum counseling, birth trauma therapy, and sexual assault counseling for adults. We also have a blog where we write about a variety of different mental health subjects. If you're interested in learning more about our services here at Brave Minds Psychological Services or online, please contact our Scotch Plains counseling office!  Proud to serve Fanwood, Westfield, Cranford, New Providence, and surrounding areas.
---