That time of year has come again. Usually you would be ecstatic; preparing your menu and picking out gifts. This year, all of that has changed. You are no longer excited, but filled with an overwhelming sense of dread. Your mind wanders to holidays of the past – happy memories of your family together enjoying quality time. You wonder how things will ever be the same this year as you struggle with grief, and miss the presence of your loved one. It feels as if the holidays just won't be the holidays at all without them there. 
It would be easier if you could just forget the holidays all together; put on your pajamas, curl up with some Netflix and pretend it is just any other day. That may work for some, but what if you have children, or other family members that you need to be there for? Showing up and being part of the festivities, pretending everything is ok while carrying the weight of this loss inside of you just seems so hard. What if there were another way to do things? What if you could remember your loved one, allow yourself time to sit with the loss, and create new memories in their honor. 
Here are some ways you can keep your loved one a part of the holidays each year: 
Allow yourself to sit with the grief:  Grief is painful. It may feel like there is a hole inside you that can never be completely filled.  It can feel like waves on a beach, coming in strong and hard at times and then retreating or trickling in and lingering.  Grief represents the love, bond and connection with your loved one. When the waves of grief come allow the feelings to flow through you. Allow the tears to come, and know that it represents how meaningful that person's life was to you.
Decorations: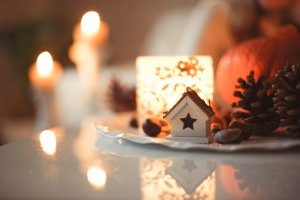 The holidays are a time when many people liven up their home with festive decorations. Don't feel like you need to immediately jump into decorating the way you may have in the past. Consider something smaller that honors your loved one.  You can create a snow globe or a hanging ornament with paper or fake snow inside. The snow can represent kisses or a message from your loved one. If that craft doesn't suit the beliefs of your family, perhaps you can create a pillow out of an old shirt of theirs. Engaging in these craft activities with family can create lasting memories, spark conversation about joyous holidays past, and create an item to carry on for generations. 
Write a book: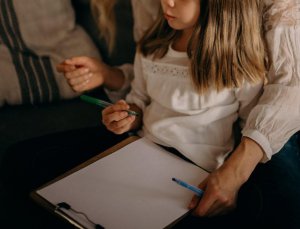 This may sound tricky, but when children are included it can become one of your favorite holiday traditions. Create a short story out of paper, markers, and family pictures. Write about some of your favorite memories. Cut out or draw images that resonate with those memories. Making and reading this book with family can be a healing experience for all.  
Moment of silence:
It may seem easier to not talk about your loved one out loud. However, I would bet that even if they are not spoken about out loud, they are on everyone's mind. Having a dedicated moment to sit and think about your loved one on a holiday may be just what your family needs. Doing this as a family validates to each family member who is suffering with grief that this is something you are coping with together. Consider lighting a candle or for the little one's purchasing a battery operated candle they can switch on.
The holidays may never feel the same again with the loss of your loved one, but creating new traditions and memories in their honor can help your family heal and move forward together. We wish you peace and healing during this holiday season. 
Contact us for a free video consultation.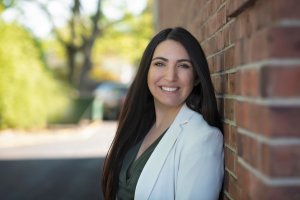 Jessica is a Licensed Clinical Social Worker who is passionate about helping those struggling with postpartum depression and birth trauma. She creates a safe place for her clients to share their stories and develop the necessary skills to thrive. Jessica specializes in treatment for children, families, and mothers.