Every day, you deal with the heartache of the memory of your child (or children), who left this Earth too soon. While this lingers day in and day out, the month of May brings an overwhelming sense of sadness. You watch as other women and families celebrate mothers. You try to feel happiness for others, but you succumb to your own sorrow. Your child may no longer be here anymore, but that does not make you any less of a mother. Whether this is the first year since the passing of your child, or the fiftieth year, you are allowed to to feel this way. 
"What we once enjoyed and deeply loved we can never lose, for all that we love deeply becomes part of us" – Helen Keller
Whatever Form Your Grief Takes on This Day, Allow it.
What is your heart telling you to do on this Mother's Day? If you want to reflect on those memories of your child, flip through the photographs or sonograms. If you want to visit your child's gravesite, make the trip. If you want to celebrate the day by allowing your partner to shower you with love, embrace it. This is your grief and your journey. Do not feel compelled by society's standards of what you "should be doing" on this day. 
It can be helpful to have a plan for those days that you know may be harder than others. You may want to come up with a few things you will do on the harder days. Moreover, you are allowed to change your mind and not follow through on these plans.
Be Aware of Your Boundaries/Limits
Maybe you don't make it to the Mother's Day Zoom/Facetime call your friends invited you to. Or you only text a few of your closest friends and family to wish them a happy Mother's Day.You may become overwhelmed with the amount of energy it takes to acknowledge all the mothers in your life. Don't feel obligated to reach out to every single one of them. Remember, this is your day as much as it is their day. 
Take a Break From Social Media
Today presents the perfect opportunity to take a break from Facebook and Instagram. Scrolling through the pictures of others with their children can be upsetting and cause additional heartache. Of course, you want your loved ones to enjoy their time with their children, but it might not be in your benefit to bear witness to it on this day. 
Speak with Loved Ones
Call your own mother, your best friend, or your aunt: they want to hear from you. They know that today will be a difficult day for you and they will be there to listen. You can also talk about what this day is like for you with your spouse. Discussing these feelings together can also bring a sense of comfort that you are not alone. 
"There are no goodbyes for us. Wherever you are, you will always be in my heart." -Ghandi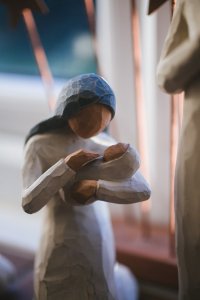 Contact us for a free video consultation.