Are you tormented by compulsions to do certain things over and over again?
Maybe you need to arrange or clean until everything is exactly right. You may feel like it doesn't make sense –  all the checking and re-checking – but you can't feel better until you check one more time.  If you don't, you feel awful or like something horrible may happen.

Maybe you're just tired of OCD ruling your life.
It's possible that arranging, counting, or second-guessing yourself is getting in the way of your ability to focus or accomplish goals. Even as you're resting, overwhelming thoughts intrude, keeping you awake and drowsy the following day. It's a cruel cycle, and you're understandably sick of the OCD keeping you down. 
Do you have persistent negative thoughts you can't control?
You might be terrified people will find out who you really are. It's possible you're haunted by awful, even violent thoughts of things you would never do. Still, the horror scene replays in your mind, and you can't seem to make it stop, no matter how hard you try.  
Are you avoiding important people or situations because you're afraid? 
You may have designed your entire life around avoidance without even realizing it. If there are people you unwillingly imagine hurting, you may avoid seeing them, even though you would never harm them.  You may be disgusted by the thoughts you have as much as you fear them.
Perhaps compulsions started during pregnancy or following the birth of your child
. 
Sometimes compulsive behaviors, like obsessing over the health of your child or persistent doubts about whether you're a good parent appear during pregnancy or shortly after giving birth. A recent study found that new mothers are five times more likely than their peers to experience OCD.
Does your child or teen struggle with obsessive thoughts? 
Is your child missing out on carefree time with friends? It's possible they're preoccupied with the worry of doing something wrong or that something bad will happen. Are they always seeking your reassurance that everything is ok? Are you worried about their inability to "move on" from a challenge? Perhaps you've radically changed your life to accommodate their fears.  
You Are Not Alone
The truth is that many people struggle with OCD. In fact, three percent of the New Jersey population lives with OCD—that's 266,460‬ people. Beyond its prevalence, OCD doesn't discriminate; it affects individuals of all races, genders, ages, ethnicities, and socioeconomic backgrounds equally.  
There are many different types of OCD, but they are all exacerbated by stress. Stress of any kind can lead to an increase in OCD symptoms.  For instance, when things are really stressful at work or when you have big changes in your personal life.  During COVID-19, you may struggle to differentiate between reasonable precautions and obsessive hand washing, cleaning, or worrying for your or your family's safety. If you're reading this page, chances are you are struggling more than ever. Just know that help is within reach.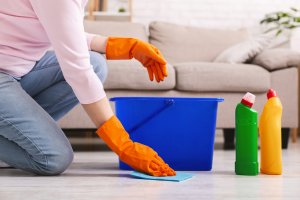 Get Treatment for OCD in Scotch Plains, NJ
Obsessive-Compulsive Disorder treatment is a highly effective way to experience lasting relief from chronic worry and unwanted behaviors. Because everyone's experience with OCD is different, we start with a thorough assessment to understand your acute fears and hopes for the future. Working off that foundation, treatment involves a tailored mix of Cognitive Behavioral Therapy and Exposure and Response Prevention, with lots of education surrounding how the OCD cycle operates and what you can do to break it throughout. 
With the support of an experienced therapist, you'll learn to identify crutches – the ways you have changed your life for OCD – and build skills to change those behaviors and make room for the person you wish to be. As we unpack what's driving your OCD cycle, you'll become increasingly resilient to stressors of all kinds. 
We can help you with therapy. Therapy that works.
Step by step, your therapist will guide you toward creating more balance and ease in your life. With benchmarks along the way, you'll see how far you've come, until the day when you no longer need our help because you're in control – not the OCD. 
Accomplishing your goals and enjoying yourself without OCD holding you back is completely possible with the right help and support. Imagine feeling proud of who you are, as opposed to hiding the dark side people can never know. You deserve to experience that freedom. 
Frequently Asked OCD Treatment Questions 
I couldn't possibly tell other people about the thoughts that enter my head.
What if you could… without any judgment? 
That's OCD treatment. 
Of course, our therapists follow the stringent confidentiality requirements of HIPAA, but we also intentionally create the space for you to unload this burden. Whether you're struggling with persistent thoughts of the violent or sexual nature, we are here to listen and help, not to judge. Remember, shameful thoughts are part of the OCD cycle – they're not inherent to who you are as a person. Plus, shameful thinking often prevents people from seeking help when they could be living a more fulfilling life. 
I have been dealing with this for years. I can't imagine how I will overcome this.
Our experienced therapists will listen to your unique experience and offer leading, comprehensive treatment options. Can you imagine life not ruled by OCD? We're here to help you create that life. 
Can you help my child or teen?
Yes. It's common for children and teens to feel alone in their experience with OCD. Even though you're an attentive parent who checks in, your child may be too anxious to tell you the whole story. If they're struggling with violent or sexual thoughts, you may be ashamed.  You may be worried about judgments if you reach out for help.  
We have therapists on staff who specialize in child and teen OCD treatment. With the right support, your child will learn to stand up to the OCD bully, with plenty of celebrations and reinforcements along the way.

Don't Let OCD Rule Your Life. Get Treatment for OCD Today.
Why not pick up the phone or fill out the form to start creating more peace in your life? We're here to provide coping tools that will support every area of your health and wellbeing. 
Begin Treatment for OCD in Scotch Plains, NJ
You can have a life on your terms after getting treatment for OCD at Brave Minds Psychological Services. Our trained and caring therapists at our offices in Scotch Plains are waiting to give you the best OCD help available. If you'd prefer to meet with a counselor via video session, we can offer online therapy in New Jersey. To begin OCD therapy, follow a few simple steps:
Connect with Brave Minds Psychological Services today for a free consultation phone call.
Get your questions answered by one of our trained OCD therapists.
Take back your power and feel more peaceful about your life today.
Other Therapy Services At Brave Minds Psychological Services
At Brave Minds Psychological Services, we offer a variety of services from our licensed therapists in order to get you on the right path to healing. Our therapeutic services include therapy for children, with a special focus on anxiety treatment for children and child sexual abuse therapy. We have specialists doing therapy for teens, specifically anxiety treatment for teens and teen social phobia therapy. Our adult therapy services include anxiety counseling, couples counseling, counseling for parents, postpartum counseling, loss and grief counseling, food allergy therapy, and group therapy. Finally, we have specialized trauma therapy and PTSD treatment areas for birth trauma, pregnancy loss and miscarriage, sexual assault counseling for adults, and group therapy.
We also have a blog where we write about a variety of different mental health subjects. If you're interested in learning more about our services here at Brave Minds Psychological Services or online, please contact our Scotch Plains counseling office!
Located in Union County, Brave Minds is proud to serve the therapy and counseling needs of residents in Scotch Plains/Fanwood, Westfield, Cranford, Clark, and surrounding areas.