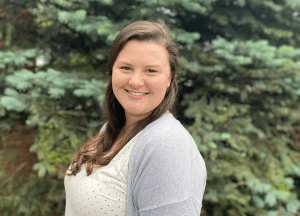 Life can be hard, and oftentimes we find ourselves navigating through situations we've never experienced before. It's in moments like these that sometimes we need an outside perspective, someone who is not in our day-to-day life that can offer a listening ear or alternative perspective. 
Hi, I am Megan (pronouns: she/her) and I am licensed associate marriage and family therapist.  I am passionate about working with couples, families and children. Due to my case management background, I love helping my clients by talking through struggles and providing resources to guide them on their own journeys. 
There are so many different aspects that shape who we are. 
As a white woman in an interracial and intercultural marriage, I believe in the importance of affirmative therapy, honoring differences and creating connection in the midst of appreciating our unique selves. From given families to chosen families and from friends to coworkers, there are so many layers that impact and shape who we are. Therapy should provide space for all aspects of your identity to show up and grow. As someone who has lived in more stifling environments, I can say the burden of self suppression is great.
My training in marriage and family therapy positions me to support you in connection with those you love.  From couples therapy to family therapy, I want to help you thrive in your relationships.
Couples Therapy
Your relationship with your partner is an intimate space.  Inviting a couple's therapist into this space is sacred.  I would be honored to help you open the door of communication so you can further connect with each other in meaningful ways. Navigating differences in culture, communication style, values and intimacy is courageous and important to a lasting relationship.  I'd like to be somebody who can walk alongside you in times of transition, challenges, and joy. 
Family Therapy
There is something special about witnessing a family overcome challenges together. When working with families, I honor given families and chosen families.  I am a classic middle born committed to being the peacemaker and mediator.  That doesn't mean peace at all cost but challenging families to come together to acknowledge differences and work together to support each other. 
Therapy with Children 
There is joy in learning about who a child is and helping them overcome the things that cause them to feel stuck. I am the therapist who will get on the floor with your child.  I get down on their level, get down for a child inspired dance party, and get deep down in imaginative play.  Children have big feelings and play is an important tool for how they communicate.
I will be working under the supervision of Lauren Grossbach, LMFT, with services located in our Branchburg, NJ office serving Hillsborough, Bridgewater, Bedminster and surrounding areas.
NJ#37FA00039400